The Rogue Is Back in Town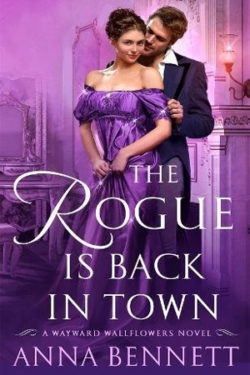 Author

Anna Bennett

Release Date

January 2, 2018

Publisher

St. Martin's Press

ISBN/ASIN

978-1-250-10094-8

Our Rating

Reviewed by

Diana Mcc
Our Review
Lord Samuel (Sam) Travis has been told by his brother, Nigel, the Marquess of Currington, that to make up for his reckless ways, Sam's funds are being cut off and he is kicked out of his brother's house. The only way to get back in Nigel's good graces is for Sam to evict the tenants of one of Nigel's properties, people who have not paid rent for years.
Miss Juliette (Julie) Lacey and her siblings were raised by their aunt and uncle for years after the loss of their parents. The aunt has passed away and her sisters have married well, one to an earl and one to a duke. Julie is the youngest and continues to live with and care for her uncle, Lord Whittmore.
Sam goes to Lord Whittmore's house and explains to Julie that he is Nigel's representative and is evicting them from the house. Julie doesn't believe him, and tells him to bring her proof of ownership. Julie tells Sam that she needs a week to hunt for the deed to the house. Her Uncle's office is in shambles and she has no idea where he put the deed.
Sam agrees, but insists on staying at the house, as he has nowhere else to stay. He tells her he will get proof from his brother, and will keep an eye out for the deed. He really doesn't want to see this young lady and her uncle evicted.
Julie tells him he can stay if he acts as an assistant to her Uncle, who is becoming more and more confused. She wants him to help her uncle sort through the mess in his office. Sam reluctantly agrees.
Sam doesn't know, but his brother Nigel has his eye set on Julie as a mistress. Sam struggles with his feelings for Julie, and finds he doesn't much care for his brother trying to take advantage of Julie. When she goes to a ball, and Sam stays at the house, (which he can't leave or Julie will not let him back in to stay), he follows her anyway and indirectly saves her from being compromised by his brother. There are many cute incidences of gallantry on Sam's part.
Julie thinks Nigel is courting her when a piece of jewelry arrives. She soon finds out he feels she is only good enough to be his mistress. Nigel says he didn't know the house belonged to her uncle. When Julie asks if he would give them time to find the deed, Nigel explains they can stay in the house if Julie agrees to become his mistress. Otherwise they are to be out of the house by the end of the week.
Julie and Sam become close and share some steamy kisses. She sees a kind man who is patient with her confused Uncle. Some hot and steamy scenes develop.
There's a good mystery about the missing deed, good story line with the riff between the brothers  and Lady Julie falling in love with the Sam.
The author created a really fun character in Uncle Whittmore. And Sam is a great rogue turned gentleman.
I received an Advanced Reader Copy of this book from Romance Junkies Reviews.com for my honest review.