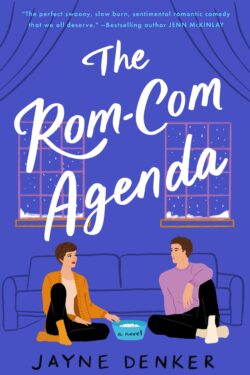 Author

Jayne Denker

Release Date

January 10, 2023

Publisher

St. Martin's Griffin

ISBN/ASIN

9781250821485/‎B09Y47B67N

Our Rating

Reviewed by

Michele Rioli
Our Review
Love is never easy. Come on the THE ROM-COM AGENDA, Ms. Denker's new novel and find out how a group of friends turn a guy into a stud muffin. Eli Masterson is depressed when his girlfriend, Victoria, flies to Rome for a whole year. He thought they had something special and clumsily proposed. He's determined to get her back. Enter his sister and her friends who initiate a total makeover, head to toe, including watching rom-com movies to learn the proper romantic hero persona, one that Victoria will love. Will it work?
Leah Keegan is a very pretty lady and a loner. She took care of her poorly foster mother who had cancer for a year. Sadly she passed away. Now, Leah is working multiple jobs, saving up money, to move on again, since she has no family. She likes Willow Cove but with no ties, it's time to relocate. Where will she go?
Eli's sister's group of friends befriend Leah and enlist her help, since she works at multiple stores around town that cater to clothes, hair, manicures, etc. Leah and Eli hit it off when they meet. Eli invites Leah to watch movies with him. Is this a good idea because the whole reason is to win Victoria back, right?
Fate seems to push them together at every turn. Leah is crushing on Eli and he is mesmerized by Leah. They both have choices to make about their lives. Will love be the deciding factor?
THE ROM-COM AGENDA is a touching romance about a romeo makeover, second chances, with small town charm. Sparks fly between lovelorn Eli and lovely Leah in this sweet romance that has all the feels. Leah's personality, her past and all her problems are expertly written. I love how strong and independent she is, standing up to anything. She never had friends, so taking a leap socially with Eli, his friends and family is huge for her. Their romance is tender and simmers slowly.. This is an uplifting journey that makes you feel like coming home. I loved it! THE ROM-COM AGENDA explores second chances and the power of love.