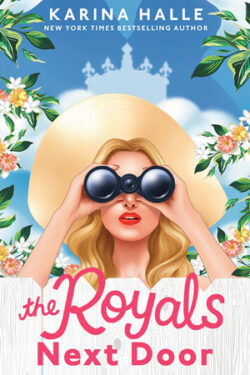 Author

Karina Halle

Release Date

August 31, 2021

Publisher

Berkley

ISBN/ASIN

9780593334195

Our Rating

Reviewed by

Michele Rioli
Our Review
A muscular, hot bodyguard rocks Piper Evans' world in Karina Halle's new book, THE ROYALS NEXT DOOR. As Piper enters her neighborhood, she is stopped by a burly guard, Harrison Cole, bodyguard to a prince and princess. Piper lives in the neighborhood with her mom and is confused why Harrison insists on identification. Piper, an elementary school teacher, unfortunately had a child puke in her purse that morning, so she is currently without her drivers license. Turns out the mansion next to her house is being rented by British royalty. Piper and Harrison argue and give each other the stink eye. Harrison is intrigued by this beautiful blond babe!
Piper lives a quiet life, with her mom as her caregiver, because she has psychological problems. She loves to read romance stories and operates an anonymous podcast on the side. Regrettably, she has an ex who treats her miserably. Piper loves the relaxing island life and does her best to fit in, even though she is treated like a stranger. Now, she has royals living next door, with a guard who sees her as a threat. Maybe she's a threat to his hormones?
Piper and Harrison bump into each other often and each meeting leaves her sweating. Harrison has charisma in spades and melts her down to her toes. As she chats up Harrison, she learns he is a very tenderhearted guy. Harrison naturally falls for the foxy chick.
As word leaks out about the royals, Piper's life gets complicated. She deals with pesky paparazzi, a nosy mother, work issues, podcast problems, navigates a nervy ex, and Harrison's hot hands. Piper is exhausted but shocked, when she has an epiphany about life and love. Is their relationship the real deal?
THE ROYALS NEXT DOOR is totally way out fun and playfully romantic. We get the dish from Ms. Halle on living life as a celebrity and all the pitfalls that come with it. It isn't all bad as Piper finds out as she becomes friends with the royals. I loved the interaction between them as neighbors. Harrison is one hot dude who oozes charm and sex appeal. Totally my type of guy! Piper is totally cute, klutzy and I love how she sasses Harrison. This is a great romantic comedy with pizzazz! I was hooked from page one, it's so good! THE ROYALS NEXT DOOR is saucy and hilarious! Love, love, love it!
Recommended Read