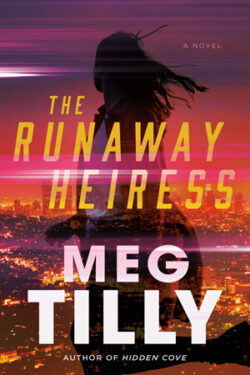 Author

Meg Tilly

Release Date

July 27, 2021

Publisher

Berkley

ISBN/ASIN

9780593201084

Our Rating

Reviewed by

Jo
Our Review
THE RUNAWAY HEIRESS is a connected story to the author's SOLACE ISLAND series, which I've read and enjoyed. This is definitely a stand-alone book, but it's nice to see the connections to the island and how they nicely round out the story.
This is Sarah/Mary/Rachel's story, and oh what a story it is. There are so many twists and turns as Sarah continues to run for her life, has no one she can depend on, and learns how many things she thinks of as facts turn out to be lies. As we delve deeper into her life, there are so many red flags and missteps that Sarah's abusive husband and others have dealt her, and things seem to be ramping up once again.
Sarah's husband is a lieutenant in the New York Police Department and has been trying to reel her back in since she is an heiress and he needs her to get to her fortune. When her path takes her to LA to be the personal assistant to a movie producer, she begins to let down her guard, but is it safe to do so? Mick also unexpectedly becomes an important part of her life. Will that be a good thing or just put him in the path of danger?
The story has a good flow, and as the plot unfolds, there are so many layers to the characters and the story. With surprises and twists in store, Sarah has to work to put the pieces of a mystery together. Good thing Mick has her back even when she doesn't think she needs it. The satisfying conclusion comes with a happily ever after for several characters and the bad guys, some whom I didn't realize were as bad as they were, getting their just desserts.  
I have enjoyed the four books I've read by Ms. Tilly and look forward to reading more of her books in the romantic suspense genre.