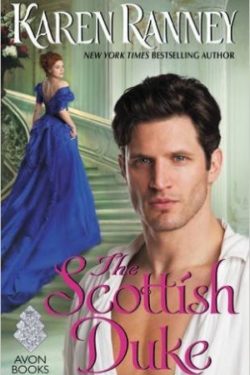 Author

Karen Ranney

Release Date

November 29, 2016

Publisher

Avon Books

ISBN/ASIN

9780062466877

Our Rating

Reviewed by

Jo
Our Review
Ranney is a new to me author and I don't know how I've missed her books previously.  I look forward to reading the next book in the DUKE TRILOGY and will be adding many of her books to my always growing TBR pile since I enjoy historical romances and those set in Scotland.  A place that's definitely on my bucket list to visit someday!
THE SCOTTISH DUKE is the first book in the trilogy and an enjoyable and fast paced read.  I liked Lorna's spunk no matter what her situation or living conditions were at any given time but unfortunately it was hard for her to accept help and forget about her asking for assistance. She has a fixation on the Duke since she's been a maid for two years at his castle in Scotland.  When she goes to do something about it things are set in motion that are out of her control.  She didn't expect to feel the way she did upon meeting him and Alex, the Duke, didn't know what hit him. There was an immediate attraction and lust but things can't be that easy between them, can they?
Alex's sister-in-law, Mary, was spiteful, a liar and a truly evil person.  No matter how many times Alex tried to do right by her or give her the benefit of the doubt things went wrong. And every time they did, Mary seemed to be front and center whether through gossip or more.  Since she's his late wife's sister they couldn't marry by law but that doesn't seem to stop Mary in her planning and scheming.  It doesn't help that she sees things very differently from Alex but also everyone else around her.  Alex was so indecisive around her and his valet, Matthews, I wanted to smack him at times.  Alpha male he was not!  Alex's mother, was delightful, and I enjoyed the scenes she was in along with Lorna's friend, Nan.  
There are family and friends, many servants, lots of science terminology relating to cures, herbs and also fingerprinting, twists and turns to the story, anger, hatred, sorrow, fear, loss, tears, frustration, happiness, loving and love.  The descriptions of the lands and the weather made me feel that I was there.  There is nice closure with loose ends tied up and I look forward to reading more books in this series.