The Scoundrel's Bartered Bride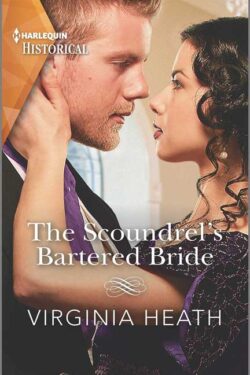 Author

Virginia Heath

Release Date

June 16, 2020

Publisher

Harlequin HIstorical

ISBN/ASIN

9781335505576

Our Rating

Reviewed by

Jo
Our Review
THE SCOUNDREL'S BARTERED BRIDE is a fast-paced read with many story lines  woven seamlessly together. The story takes place in London in the early 1800's. This is Lydia and Owen's story, and they have a past from ten years before. Back then, Owen worked in her family's stable. But he was prosecuted for theft for stealing from them and sent to prison despite his declarations of innocence.
When they meet up again, they have immediate chemistry, but there are problems. Lydia is set to be married, and it's a horribly arranged marriage. Owen still feels angry for going to jail though innocent. And does Lydia finally believe he wasn't guilty of what he was accused of?  
Owen's best friends, a married couple, add levity and another layer to the story. Lydia's family—her father and brother—leave a lot to be desired. Owen is a rare gem who looks ahead and has made something of himself from humble roots, but the ton do not take kindly to that. Seeds of doubt are continually planted in Lydia's mind as well. The pair seem to take one step forward and two steps back until they both realize that communication is key. 
There were twists and turns to the story and wonderful scenic descriptions that made me feel like I was there. The story has a satisfying closure, and the love story delivers. Fans of historical romance will not want to miss THE SCOUNDREL'S BARTERED BRIDE.
Ms. Heath is one of my favorite authors of historical romances set in England. I look forward to seeing what she pens next for my reading pleasure.  I recommend any of her books if you're a fan of this genre.