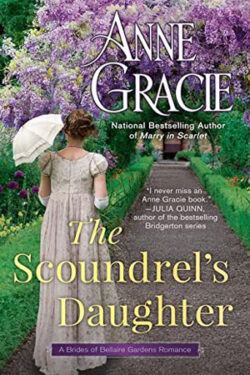 Author

Anne Gracie

Release Date

August 24, 2021

Publisher

Berkley

ISBN/ASIN

9780593200544

Our Rating

Reviewed by

Diana Mcc
Our Review
THE SCOUNDREL'S DAUGHTER by Anne Gracie is the first book of the series, The Brides of Bellaire Gardens.
Alice Paton, the widowed Countess of Charlton, is finally free of her rotten husband. After a year and a half, she has paid off his debts and is trying to live a quiet, inconspicuous life.
A scoundrel by the name of Octavius Bramber surfaces and comes to call on Alice. He possesses stacks of letters written by Alice's husband to his long-time mistress about how inept Alice is in bed, among other things. Letters that, if they become public, will make her a laughingstock. He blackmails Alice into sponsoring his daughter Lucy for the season and with her promise to marry Lucy off to a titled man in exchange for the letters.
Alice agrees under duress. Lucy is no happier about the arrangement than Alice. Lucy is not aware of the blackmail. Since her mother died, her father has shipped her from school to school, then to different women to take over raising Lucy. She thinks Alice is just one more of her father's "women."
Alice and Lucy develop a friendship. Alice asks her nephew Gerald, Viscount Thornton, to introduce Lucy to eligible men. Lucy and Gerald start to dance around each other as she finds something wrong with everyone Gerald introduces her to.
This is a story of two romances. Alice and James are given equal page time with Gerald and Lucy, and neither romance feels rushed. There are breathtaking love scenes, wonderful characters and secondary characters, and love wins in the end.
Recommended Read