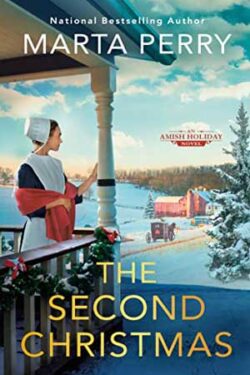 Author

Marta Perry

Release Date

September 27, 2022

Publisher

Berkley

ISBN/ASIN

9780593337929

Our Rating

Reviewed by

Jo
Our Review
It was nice to return to Promise Glen in THE SECOND CHRISTMAS. This is the fourth book in the series, and I've read them all except the first one (which I hope to soon rectify.) But you don't need to read the others to get into this fun romance.
This is Leah and Josiah's story. They have been neighbors and friends a long time until a year ago when he became smitten with another. When Leah returns home after a year away, Josiah is hoping to be friends. But Leah seems to want no part of his friendship.
When Leah decided to open her own business at the cottage on her parent's land, little did she know who her father had in mind to do the renovations. As Josiah works on the cottage, their relationship changes. But is it enough to solve hurts from the past?
I liked the depth of the story. Every detail was important, and everyone gets closure. The story was filled with strong relationships and the importance of their Amish beliefs. Food and family, as well as friends and neighbors, played important roles in this book. There was a good flow and terrific closure, especially with the epilogue. I just wished it went on a little longer. I loved the details on the cover.