The Secret French Recipes of Sophie Valroux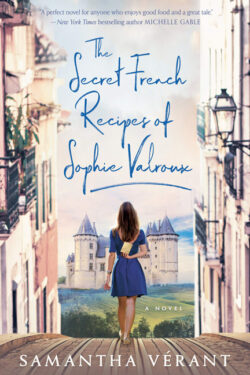 Author

Samantha Verant

Release Date

September 8, 2020

Publisher

Berkley Books

ISBN/ASIN

9781984806994

Our Rating

Reviewed by

Jo
Our Review
THE SECRET FRENCH RECIPES OF SOPHIE VALROUX has a lot of drama mixed in with cooking, menus, and recipes. Sophie is trying to make it in a man's world and become a renowned chef at the well-known Michelin-star rated restaurant she works at in New York City. When things don't go as planned, no one comes to her defense when she's accused of something she didn't do, and her life spirals out of control. 
Sophie finds herself blackballed as a chef and hides in the apartment with her fake fiance, who is her gay best friend with his own love interest. When she finds out her French grandmother is very ill, she hops the next plane to France to help.
The story picked up for me once it settled in France, Secrets are revealed, and we find out if Sophie has what it takes to get back in the kitchen—in this case, a kitchen in her grandmother's large chateau, including two restaurants and a vineyard (among other businesses.)  Her grandmother employs many people from the small town, including Sophie's friend, Remi, whom she hasn't seen since she was thirteen, when she used to summer with her grandmother.
The characters are rich in depth and the story flows nicely. The descriptions of the food and scenery made made me feel like I was there. I loved the detailed menus that were displayed for various occasions and could smell and taste the food. French words and phrases are sprinkled throughout in the telling of the story. The cover does real justice to the book (and makes me want to visit the French countryside!) The discussion questions at the back of the book were thought provoking.
Ms. Verant is a new-to-me author, and I look forward to reading what she pens next. I was highly entertained by THE SECRET FRENCH RECIPES OF SOPHIE VALROUX.