The Secret Love Letters of Olivia Moretti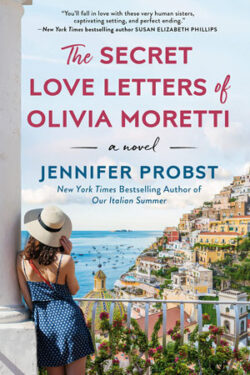 Author

Jennifer Probst

Release Date

February 22, 2022

Publisher

Berkley

ISBN/ASIN

9780593332894

Our Rating

Reviewed by

Jo
Our Review
THE SECRET LOVE LETTERS OF OLIVIA MORETTI is an emotional read! Olivia and her daughters take turns telling the story in alternating chapters from their perspectives. The story really hit a home run for me because it's set in Italy in vivid detail. The colorful descriptions really made me feel like I was there.
The prologue sets the stage and shows the importance of the love letters. After Pris, Dev, and Bae lose their mother unexpectedly, they learn more about her, especially about her time spent in Italy and her lost love—they find hidden letters along with the deed to the house in Positano. When they travel to Italy together to see the house, they also search for her long lost love. Each of the women find themselves while there and make decisions about their own lives. They also reconnect as sisters.
While exploring their past actions, we learn about many of their love interests as well as details about their lives. There were plenty of heartwarming moments throughout, and the terrific descriptions of the country act like another character in the story.  
There is a nice flow to the story, told skillfully despite several narrators. The characters have a depth to them, as does the story. There's wonderful closure with the epilogue. The cover is vibrant, multicolored, and spot-on.
Ms. Probst is fast becoming one of my favorite authors. I look forward to reading more of her books.
A RECOMMENDED READ!