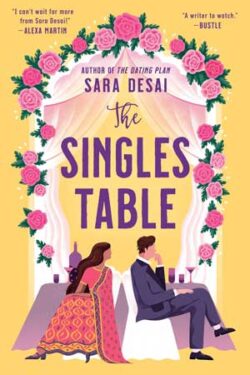 Author

Sara Desai

Release Date

November 16, 2021

Publisher

Berkley

ISBN/ASIN

B08XM37M3M

Our Rating

Reviewed by

Michele Rioli
Our Review
THE SINGLES TABLE is a romantic comedy filled with energetic hi-jinks, hilarious moments, and sizzling attraction between a couple who swear off dating. Zara Patel is a clumsy, chaotic, charismatic lady who loves her job as an entertainment lawyer. She doesn't trust in love and meets a devastatingly handsome control freak. She is traumatized by her parents' divorce when she was younger, so she avoids dating and lives life to the fullest. She is a matchmaker, like her Aunts, and makes a deal with the gorgeous grump, Jay. She will find him his perfect match, in exchange for a celebrity client from his security firm. Watch the antics fly!
Jay Dayal is a workaholic who owns a prestigious security firm, and has deep depression. He is a former military specialist with PTSD and likes order and control. His dream is to be financially secure and to take care of his mom. Coincidentally, he meets Zara at his friends pre-wedding party and is zapped literally and physically by her, which leaves a lasting impression.
Jay and Zara meet time and again at their friends' wedding parties and sit together at the singles table and chat. They are complete opposites. Jay is crabby, quiet and orderly. Zara is wild, crazy and happy. However, they are quite taken with each other. Will this unlikely couple discover they are the perfect match?
THE SINGLES TABLE is the funniest rom-com I have read in a long time! I laughed so hard at all of Zara's slapstick stunts and her bubbly personality. She is fun, lives life large and has no filter on her mouth. When Zara and Jay first meet things go awry, but he is sexy eye candy and Zara is lovely, so sparks fly.
Zara's sparkling personality soothes Jay's soul and he is irresistibly drawn to her. This rom-com is very special and delves into psychological issues of depression. Ms. Desai works her magic delivering a comedic plot with delicate touches of drama and mental problems. I was so touched and cried, so keep Kleenex handy. Zara's meddling auntie's, extended family and friends are over-the-top fun, humorous and lovable! I can't say enough good things about this book. Put THE SINGLES TABLE on your to-buy list. It is unputdownable!
Recommended Read