The Sins Of Lord Lockwood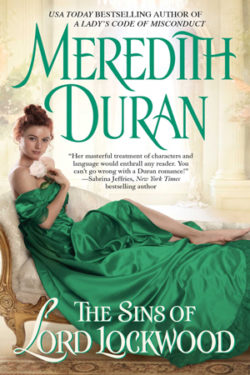 Author

Meredith Duran

Release Date

February 27, 2018

Publisher

Pocket Books

ISBN/ASIN

9781501139048

Our Rating

Reviewed by

Michele Rioli
Our Review
In Meredith Duran's sixth novel in the RULES FOR THE RECKLESS series, an obstinate, lordly and magnetic man, Liam Devaliant, aka Lord Lockwood, returns to London with only one thing on his mind, revenge in the worst way. Retaliation for the one person who stole his life from him. Liam had wed a woman, Anna Forth, his true love, only to be abducted and dispatched across the world. Now, four years later after escaping his horrifying ordeal, he returns to his former life. However his wife, Anna, assumes the worst of him, since he left without a word on their honeymoon.
Liam's scars run deep, physically and mentally, from his barbarous treatment. Anna also has emotional scars that are intense, after being abandoned by her husband. But, she isn't a stranger to desertion because her father left when she was young, and her relatives shuffled her around. Anna learned early on to depend on only herself. So, she retreats to her island, Rawsey, after Liam deserts her. But, somehow fate intervenes and deep-rooted love re-enters the picture. Anna sees past the physical damage done to her husband and to the beautiful man inside. She is determined to renew the bonds of love. Does Liam learn to accept himself and all his flaws? Will Anna learn to trust Liam again?
THE SINS OF LORD LOCKWOOD is riveting, superbly written and deeply touches the heart. Anna, the Countess of Forth, is dishonorably deserted on her honeymoon. Liam Devaliant, her husband, left her or did something sinister happen instead? Many years later, Anna, furious, discovers Liam is in London and she seeks him out. After many arguments all is revealed. Does Anna believe Liam's story?
The author beautifully plots a marriage-of-convenience story combining two heroic, damaged characters who are navigating their own versions of darkness, delivering them to the redemptive power of love. The story is satisfyingly rich, historically steeped and sensually romantic. The author expertly ties past events to present day as the plot flows along. However, the story is disturbingly authentic when you read of the horrific abuse Liam suffered. I loved every inch of this story, especially the explosive ending! THE SINS OF LORD LOCKWOOD is superb! Just like a dirty martini, slippery, sinful and deceitful to the last drop!
A Recommended Read.