The Spice Master At Bistro Exotique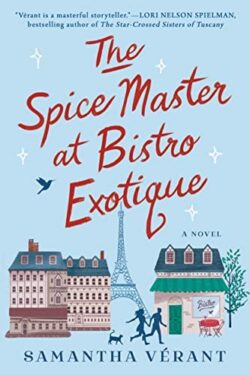 Author

Samantha Verant

Release Date

December 6, 2022

Publisher

Berkley

ISBN/ASIN

0593546000/B09TZQT6Y4

Our Rating

Reviewed by

Michele Rioli
Our Review
Exotic sexy dishes and fiery passion encompasses Ms. Verant's new foodgasmic novel, THE SPICE MASTER AT BISTRO EXOTIQUE. Kate Jenkins is an exquisite exemplary chef who stumbles upon an arrogant atrocious fellow who happens to be her neighbor in an apartment building in the beautiful city of Paris. In spite of the cursed building's reputation, her dream is to own a Parisian café' in the perfect downstairs empty restaurant. Fortuitously, Kate meets eclectic, eccentric landlord, Garrance and snags an apartment. However, her pesky, smirky, particularly hunkalicious neighbor disses her as incompetent and klutzy. Garrance happens to be Charles's mother. Oh boy, just her luck.
Garrance introduces Kate to a world of secret spices and scents that instantly entrance her. The spices magical properties perfectly season her dishes and award her with prosperity and luck. Maybe love is in the cards too!
Charles, a Michelin starred chef, doesn't believe Kate can pull it off running a restaurant. Garrance offers Kate business advice and spices from her garden. Kate encounters one disaster after another and business is dismal. With flack from her mother and Charles, Kate is disheartened. However, as Garrance's spices get mixed into her dishes it unleashes fortune, romance and self-confidence. Kate is still skeptical. But, as Kate and Charles get pushed into working together creating meals, attraction flames between them as the heavenly spices fill the air. Do they fall in love? Will Kate's restaurant flourish or will it fizzle out?
Full of intrigue and romance, THE SPICE MASTER AT BISTRO EXOTIQUE, offers decadent food, a family atmosphere, inspiring messages and most importantly, love. Kate, a talented chef discovers how spices open up a world of possibilities, like self-confidence and most importantly, love. Talented author, Ms. Verant expertly spices up the story with a bewitching quality that enchanted me. If you are a food lover, there are bonus recipes included at the end. THE SPICE MASTER AT BISTRO EXOTIQUE is a steamy heaven of orgasmic food and love proportions!