The Striker, Highland Guard Series Book 10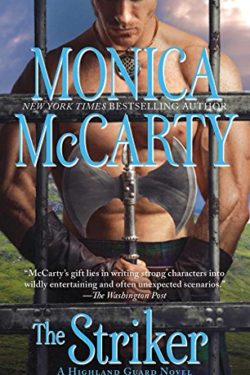 Author

Monica McCarty

Release Date

November 24, 2015

Publisher

Pocket Books

ISBN/ASIN

9781501108709

Our Rating

Reviewed by

MIchele Rioli
Our Review
Monica McCarty takes the reader on a journey through a land of wonderment, wildness and fierceness in THE STRIKER the 10th book in the HIGHLAND GUARD series. Handsome, swashbuckling men with ripped muscles galore! What more could you ask for?
Eoin MacLean, aka Striker, is an extraordinary warrior and he is training to be a part of Robert the Bruce's elite regiment. It is his main goal in life to be a warrior and one of the best at that! Only a beautiful, redheaded lass is his undoing as she impairs his good judgment. Oh, my stars! Will Robert the Bruce pardon him?
Lady Margaret MacDowell, a striking, curvaceous beauty, meets a seriously hunkalicious man, Eoin, while attending court at Stirling Castle. Their attraction is immediate, passionate and dangerous because their families are fighting on opposing sides of the war. They marry with great reproach from their families. Eoin and Margaret are forced apart through mistrust, lies and secrecy. Eoin never shares his ambitions and ultimate career with Margaret. Margaret, in turn, develops insecurities and depression over her future after being left in the care of Eoin's family who terribly resent her and ultimately mistreat her. Eoin leaves her for months on end, with no word about where he is going or when he will return since he is sworn to secrecy on his mission with Bruce's elite army of men. Margaret misjudges Eoin and betrays him, unknowingly setting off a devastating chain of events. Will their marriage dissolve? Is Eoin killed in battle?
THE STRIKER is an extraordinary historical romance with a rich, violent background drenched in true, horrific battles concerning Robert the Bruce and his quest for the throne in Scotland. The story is mesmerizing, fiery and quietly surprising. The author, Ms. McCarty, has written a story that states true historical facts, while injecting her own brand of humor, a different timeline and a fictitious romance, which coalesce into a compelling story. I loved Eoin's faithfulness to Robert the Bruce and to his wife, Margaret. Sometimes it was hard for him emotionally, separating his loyalties to his wife and his overt commitment to his career as a warrior. I immensely enjoyed reading the tug-of-war between Margaret and Eoin. There is a six-year span of time during which Eoin leaves Margaret at his family's home as he goes off to war and Margaret matures into a woman. With no word from Eoin, whether he is alive or dead, Margaret's father tells her he is dead. She mourns him with ferocity and eventually matures into a bitter woman from what could have been and what has befallen them. This story has incredible depth and maturity, describing both sides of the coin in this "he said, she said" tale. Margaret learns many things as she ages, from her days as a rebellious teenager, then as a wife dealing with a husband who is a fierce warrior. A tragic string of events tears them apart. Do they ever see each other again? Is Eoin killed in battle as Margaret's dad suggests? THE STRIKER is undeniably first-rate storytelling at its best!