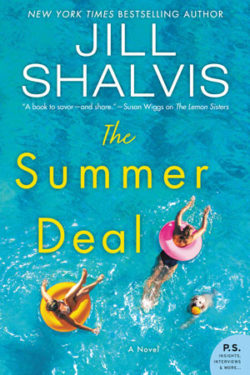 Author

Jill Shalvis

Release Date

June 2, 2020

Publisher

William Morrow Paperbacks

ISBN/ASIN

0062897829

Our Rating

Reviewed by

Raonaid
Our Review
Eli Thomas is a marine biologist for a nonprofit organization. He is close friends with Kinsey Davis. Eli offers Brynn a room to rent in the hopes that she and Kinsey will bond. However, having her under the same roof allows him to act on the feelings he has had since childhood. Can Eli convince the two women to forget their differences? Will Kinsey's secrets destroy that hope? And will their conflict stand in the way of his relationship with Brynn?
Brynn Turner returns to Wildstone, California, to get her life back in order. On her first night home, she runs into Eli Thomas, her childhood crush, at the ER. Brynn reluctantly agrees to rent a room from him to escape her mothers' smothering. She never expected to find her nemesis living in the same house. Brynn learns some startling information about Kinsey. Can Brynn and Kinsley mend their differences? Will Brynn let her insecurities interfere in her budding relationship with Eli?
Eli is such a sweetheart! Despite a crappy childhood, he still manages to maintain a selfless personality. I adore Eli's devotion and caring for the people he considers family. There is little he would not do for them. Basically, Eli is the type of friend that everyone needs in their life. What I adore the most about Eli is how he refuses to pressure Brynn into anything she is not ready for. He is aware she has been hurt, so he would rather Brynn be certain about starting something between them.
Brynn took me a while to warm up to. She came off hypocritical at times. I understand her need for people, especially Kinsey and Eli, to be truthful with her. However, she should have extended the same courtesy to them. I empathize with Brynn's need to feel as if she belonged and not feel like an outsider. I have been in her shoes when I was a teenager. What I like the most about Brynn is how she used her past connections to help Eli. She has witnessed his selflessness in helping others without asking help in return. She took initiative and reached out to get what he needed.
THE SUMMER DEAL is book five in Jill Shalvis' contemporary romance series, WILDSTONE. This story can definitely stand alone because characters from the previous books do not make appearances. I notice how this book, along with ALMOST JUST FRIENDS, has a different formula than what is normally found in romance stories. It makes me curious to read the first three books and novella to see if the trend holds with them also.
THE SUMMER DEAL is an emotional tale that emphasizes the fact that family are not always blood. I really like the new direction the author is taking with this series. I cannot wait to see who in Wildstone gets their story told next.