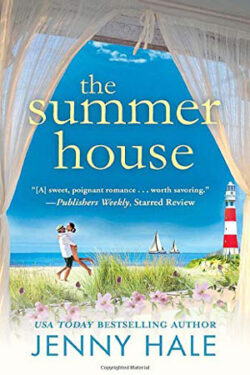 Author

Jenny Hale

Release Date

May 26, 2020

Publisher

Forever

ISBN/ASIN

9781538734391

Our Rating

Reviewed by

Jo
Our Review
THE SUMMER HOUSE was a quick read and held my interest from the first page to the last. There were many plots going on woven nicely together. The characters had a depth to them, which enriched the story. THE SUMMER HOUSE centers around Callie and Olivia, the new owners of a beach house they are fixing up to be a B&B on the Outer Banks of North Carolina. The story also revolves around Callie and Luke as the central romance.
The author lovingly described the beach, the B&B renovations, and the turmoil of a hurricane. The beach community came together more than once thanks to Luke. Callie and he hit a few rough patches because they both find it hard to let others in. Yet they clicked when they unexpectedly met and she helped him out. From there it was one adventure after another.
The story was filled with family, love, and romance. There were warm, tender, and caring moments even when things didn't seem to be going right. The epilogue nicely wrapped up the story, and the cover was spot-on.
Ms. Hale is fast becoming an author whose books I look for. They are always filled with family and friends, strong women, and the right amount of romance. I highly recommend her.