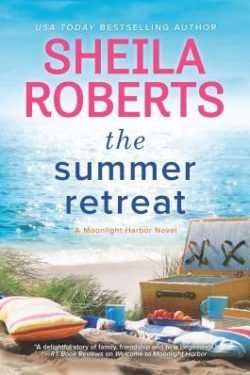 Author

Sheila Roberts

Release Date

April 23, 2019

Publisher

Mira

ISBN/ASIN

9780778369400/B07MFVJMS6

Our Rating

Reviewed by

Michele Rioli
Our Review
THE SUMMER RETREAT, the third book in the Moonlight Harbor series, is aglow with sparks of zip, wit and suspense. Come along and sit a spell as Celeste Jones, a lovely grade school teacher, gets ready for summer so she can spend time with her boyfriend. However, she discovers he has cheated on her, the scoundrel! Disheartened, she heads for her sister's place in Moonlight Harbor. Her sister loves having her and Celeste will gladly help her with the Inn that she manages. It's the perfect place for Celeste to get control of her life, soak up some rays at the beach and bond with family and friends. She is going to be super picky with her choice of beau next time. Will she find love at the seaside?
Her older sister, Jenna, introduces Celeste to many single guys and one in particular captures her eye, Pastor Paul. He is such a good-looking and sensitive man. Plus, Paul is smitten with her. Celeste can't believe her good luck! Is he the one? Then, she meets a reclusive writer in room twelve at the Inn while cleaning. He is so…mysterious and…handsome and…Celeste can't stop thinking about him. Who will Celeste choose? She wants the perfect guy this time, no more cheaters. Or will something happen that she foregoes men all together?
Ms. Roberts expertly creates, THE SUMMER RETREAT, a place where love abounds and stars a beautiful woman, Celeste, who is recovering from heartache after her two-timing boyfriend stomps on her heart. She wants a devoted man who loves her and only her. She seeks solace at her sister's place. Jenna wants Celeste to be happy and maybe find Mr. Right in Moonlight Harbor. Ms. Roberts' creates a simply divine plot involving emotional support from family and friends along with some misadventures that make for an intriguing read. Celeste meets some wonderful guys but misreads their intent which causes some really interesting plot twists. Pastor Paul is wonderful to her but there is the guy in room twelve that really intrigues her. Things progress rapidly between her and Pastor Paul. Ms. Roberts does an impressive job holding out until the end on who Celeste chooses. Will she choose Paul, the sure thing or will the man in room twelve capture her heart even more, or perhaps she gives them both the boot? THE SUMMER RETREAT is a spectacular story that will keep you guessing. Definitely crazy fun!