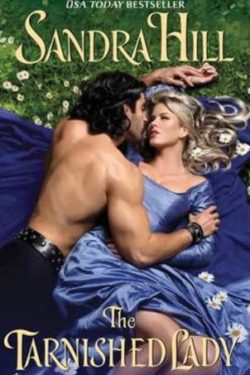 Author

Sandra Hill

Release Date

June 28, 2011

Publisher

Avon, Reprint Edition

ISBN/ASIN

9780062019134

Our Rating

Reviewed by

Chrissy
Our Review
Once heralded as the "Silver Jewel of Northumbira," Lady Eadyth of Hawks' Lair made one error in judgement. The result – a new moniker, "The Tarnished Jewel," and a son, John.  Since then she's spent her time caring for her child, tending her bees and remaining a recluse from society. The simple fact that she's had a child out of wedlock doesn't bode well for her in the husband-hunting department. However, her circumstances have changed, and her son's loathsome father is threatening to reveal John's true parentage. In a bid to save herself from the man's detestable plans, Eadyth proposes marriage to Eirik of Ravenshire in exchange for a sizable dowry and a potential revenge against his biggest enemy. 
Since Lady Eadyth has gone through great pains to hide her true beauty, Eirik has no clue of her appeal. In all honesty, vengeance against Steven of Gravely is enough to entice him into a chaste marriage with the obviously shrewish woman. What he doesn't realize is the havoc Lady Eadyth will bring to his household and himself. She's a strong, determined woman unafraid to speak her mind, and Eirik can't deny the attractiveness of such a trait – even if she does come with a swarm of bees.
It's impossible not to love a Sandra Hill Viking book. They're hilarious, lighthearted, fast paced, and sigh-worthy. THE TARNISHED LADY is no exception. From Eadyth's cleverly concealed beauty right down to her income endeavors, she single-handidly captures and holds the reader's attention just waiting to see what she'll do next. Fortunately, Eirik is just as enchanted with her, which more than makes up for the frustration he experiences at her defiant demeanor and deception. I had to laugh my way through the scenes, especially when Eirik suffers some sort of calamity due to Eadyth's antics – and if those aren't enough for you then the dialogue and comments from some of the secondary characters definitely left me chuckling. Of course, there are serious issues addressed as well (such as John's father's reasoning for suddenly wanting to claim his son.) But that just adds to the appeal of the story and helps the reader empathize with Eadyth and Eirik while detesting Steven.
Sandra Hill has long been one of my favorite writers of Viking romances. I can well remember reading THE BLUE VIKING and eagerly hunting down any other Viking stories Ms. Hill had written to add to my collection. What I didn't realize when I picked up THE TARNISHED LADY is that it is one of the stories in the VIKING I series. (Maybe because it doesn't have the word 'Viking' in the title?) In any case, it's a great addition to the fun, lighthearted, and at times emotionally-driven series.
From the titles I've read so far, you do not need to read them in any particular order, so pick a title that sounds good and sit back and enjoy a Viking tale as only Ms. Hill can deliver.
VIKING I series
THE RELUCTANT VIKING
THE OUTLAW VIKING    
THE TARNISHED LADY
THE BLUE VIKING
MY FAIR VIKING
A TALE OF TWO VIKINGS
VIKING IN LOVE
THE VIKING TAKES A KNIGHT
THE NORSE KING'S DAUGHTER
SANTA VIKING
THE PIRATE BRIDE