The Trouble with Mistletoe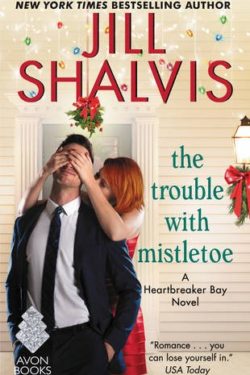 Author

Jill Shalvis

Release Date

September 27, 2016

Publisher

Avon

ISBN/ASIN

9780062448040

Our Rating

Reviewed by

Dottie
Our Review
Growing up with an alcoholic mother and spending time in and out of foster care has not made an easy life for Willa Davis. However, it has given her empathy for others. Now, as a pet shop owner, Willa gives refuge to other young women who are having a rough life. In fact, she has hired three such young ladies who have been displaced and have no place to turn. However, despite all she has gone through, Willa is an upbeat person. When a handsome man from Willa's past comes into her shop needing her help with his pet, she is startled to realize she knows him. In high school, he had left her stranded at the Sadie Hawkins' dance. Now, infuriatingly enough, he doesn't even seem to remember Willa. Still, she doesn't hold this against the cat, Petunia, so she takes her into daycare.
Contractor/Developer Keane Winters has been saddled with his aunt's temperamental cat and he needs help desperately. He can sense that Willa is antagonistic towards him, but he doesn't know what he has done to make her that way. He is certain he has never seen the gorgeous pet shop owner before. Still, he is drawn to her, her snarky remarks and the love that she showers on others. As he continues to gain Willa's help with Petunia, he finds himself falling in love with her and his aunt's cat also seems to be growing on him.
Willa can see that Keane, the man, is much different from the boy she knew years ago. For one thing, he has lost some of his arrogance. But has he changed enough to now trust him with her heart? Perhaps, by tossing a coin in the fountain, along with a Christmas wish, she can let the mistletoe do the rest.
A fun, holiday tale, THE TROUBLE WITH MISTLETOE, the second book in author Jill Shalvis' HEARTBREAKER BAY series, is a witty, sexy, contemporary romance that will steal your heart. These two are very compatible; readers can almost sense the charge in the air whenever they are in the same vicinity. Although this couple has a past, it seems more meaningful to Willa, probably due to her circumstances, but everyone can change as they grow older. Now their interaction is a combination of naughty and nice. Will it be enough to last a lifetime?
The characters in the first book of this series, SWEET LITTLE LIES, are also present in this one, to my delight. The familiarity and witty banter between them makes it feel like you are visiting old friends and gives the story warmth. A masterful storyteller, Ms. Shalvis' novels exude a depth, humor and heartwarming affection that convinces readers to become avid fans of her work. Her vivid imagery will leave you longing for a real-life visit to the small town of HEARTBREAKER BAY. I only recently discovered this author when I read the first book of this series and now I can't get enough. I am looking forward to the next installment of this series, ACCIDENTALLY ON PURPOSE, due to release in January 2017.