The Trouble With True Love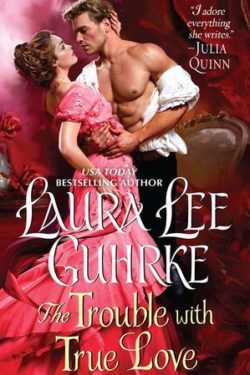 Author

Laura Lee Guhrke

Release Date

January 30, 2018

Publisher

Avon Books

ISBN/ASIN

9780062469878/B071DSP6B2

Our Rating

Reviewed by

Michele Rioli
Our Review
In the second novel in the Dear Lady Truelove series, THE TROUBLE WITH TRUE LOVE stars a bashful lady, Clara Deverill, who unexpectedly finds herself running the family's newspaper business, because her sister, recently wed, left on an extended honeymoon. Also, Clara now has to tackle writing her sister's advice column, Dear Lady Truelove. What will she do?
Clara doesn't have a clue on advice to the lovelorn. The problem, her bashful nature has rendered her socially inept especially around men. Hopefully, sampling sugary snacks at her favorite tea room will be just thing she needs. She's in luck! She overhears two guys in the booth next to her chatting. The one man is telling his friend how to casually breakup with his girlfriend. The nerve! Clara is enraged on the unfortunate woman's behalf. An idea strikes her. She pens her first piece for the paper concerning the poor woman's predicament. Clara gets a glimpse of the scoundrel doling advice. He is seriously handsome! She still despises him even though he is eye candy.
When Rex Galbraith, a handsome bragging devil, catches wind of the column, which has his words verbatim, he is extremely angry and locates the real lady Truelove. Rex meets lovely, shrinking violet, Clara who already openly detests him. But, Clara concedes when she has a light bulb moment, offering Rex the position of writing as Lady Truelove, since he is a so-called expert on females.
Rex, a roving romeo, loves his aunt but she is a meddlesome matchmaker and wishes he'd wed. Bah! Love and marriage is for sissies, is Rex's motto after witnessing his parents' dreadful divorce. But, something about Clara has captured his heart. He makes the best of a hopeless situation and accepts her offer writing for the paper in exchange courting her as, friends only, to satisfy his interfering aunt. Only Cupid has ideas and maybe this mismatched couple will discover they have genuine passion for each other. But, will they recognize love when it hits them?
THE TROUBLE WITH TRUE LOVE is a sensational romance story that combines compassion, hilarious moments, true friendships and a charming plot. Clara meets dastardly, dashing Rex and he practically sweeps her off her feet. Rex is a handsome rogue who nixes matrimony and doesn't believe in real love with a woman. Clara dreams of a conventional life, that includes a husband, children, and cozy home but her shyness is a detriment to her future. Rex comes charging along and breaks her out of her shell. She blossoms under Rex's attentions. This is a lovely gentle romance that evolves slowly. The author, Ms. Guhrke, expertly plots a budding romance between the most unlikeliest couple. The characters are smart, genuine and funny. Simply perfect and divine. I just loved it! THE TROUBLE WITH TRUE LOVE is like a traditional pot roast. It simmers slowly, is delightfully tender and builds up to a delicious finish!