The Viscount and the Vixen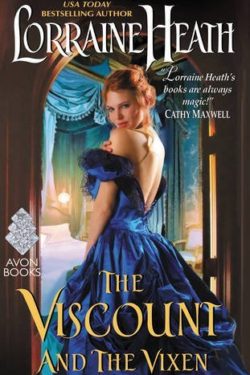 Author

Lorraine Heath

Release Date

November 29, 2016

Publisher

Avon

ISBN/ASIN

0062391054

Our Rating

Reviewed by

Dottie
Our Review
Killian St. John, Viscount Locksley, was only six when his mother died. His father, so in love with his wife, stopped the clocks on that day and they haven't been restarted since. He also locked the doors to most of the rooms in the manor. Now his father is considered quite mad as he waits for his wife's ghost to visit him each day, believing that she haunts the moors. To keep his father safe, Killian locks him in his room at night. When his father makes the announcement that he has been corresponding with a young lady and is scheduled to marry her that same day, Killian is determined to keep the woman from taking advantage of his father. Instead, he plans to show her the door when she arrives.
Now that Killian is two months past the age of thirty, his father despairs of his marrying. So, his father is set on siring a spare heir, or is he?
Portia Gadstone's life is in shambles. Believing that she can hide out at the isolated large estate at Havisham Hall owned by the Marquess of Marsden, Portia answers his ad for a wife. They have a contract and if he changes his mind, he will be paying her a pretty penny. Then the desire that hits her when Killian answers the door nearly sends her running. But she has someone she needs to protect, at all costs. So, running is not an option.
From the moment that Killian sets eyes on Portia, he is attracted to her and cannot imagine her becoming his stepmother. Still, he is leery of her, especially when he finds out how much she stands to gain if the wedding doesn't take place. When he finds himself fantasizing about her, he cannot resist a kiss when they are left alone. That is a mistake. However, despite his attraction to her and the heated kiss they shared, Killian is certain she will never inspire love in him, so she is the perfect choice to become his wife. After all, he never wants to find himself in his father's predicament, losing a wife he desperately loves, along with his mind. So, to save his father from marrying her, Killian decides to marry Portia in his father's stead.
At first, Portia is horrified to find that she must marry the young viscount rather than his father. But as she finds herself falling in love with her husband, she fears losing him when he learns her secret. Will the love that is building between them be enough to overcome what she fears most, or is she bound for heartache?
A heartwarming tale, THE VISCOUNT AND THE VIXEN, the third book in New York Times and USA Today bestselling author Lorraine Heath's HELLIONS OF HAVISHAM series, is an emotion-packed, sensual story that fans of historical romance are sure to love. From their first meeting, the attraction between Killian and Portia is sizzling hot, but she was counting on a quiet marriage away from the eyes of the ton, not a passion-filled marriage to the younger man. However, this soon turns to love and the fear that he will learn her secret, which is not disclosed until further on in the book and that is when things begin to get a bit rocky. I really loved the way that Portia brings a bit of light into the Havisham household as she begins to restore the estate, as well as her daughterly feelings for her father-in-law, who begins to come out of his reclusiveness because of her.
Secrets, scorching sensual scenes, interesting characters, humor, an intriguing plot, grief, loss and true love combine for an unforgettable, beautifully written tale that readers will find hard to put down. Although this book can be read as a standalone, I am sure that after reading it you will seek the rest of the series, including FALLING INTO BED WITH A DUKE and THE EARL TAKES ALL. I have enjoyed all the stories in this series and hate to see it end, but I am eager to see what Ms. Heath comes up with next. Take my advice and pick up a copy of THE VISCOUNT AND THE VIXEN today!