The Way You Love Me (Angel Falls)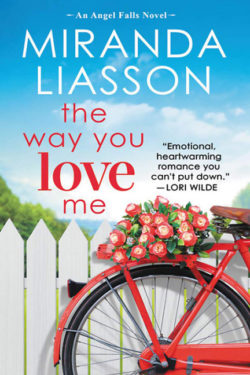 Author

Miranda LIasson

Release Date

January 29, 2019

Publisher

Forever

ISBN/ASIN

9781455541829

Our Rating

Reviewed by

Jo
Our Review
This is only the second book I've read by Ms. Liasson, but it won't be my last. The characters are real, and the descriptions made me feel like I was there. She's an author reminiscent to me of some of my faves–Debbie Macomber, Susan Mallery and Jill Shalvis, among others.
THE WAY YOU LOVE ME is book two in the ANGEL FALLS series, and it only whet my appetite for more. This is Gabby and Cade's story, and it was hot, hot, hot and not only between the sheets. When their paths cross at the parking lot at the college where he's a professor and she's a student, they have no idea that their fated meeting sets lots of wheels in motion. There is an instantaneous attraction between them, but there's nothing they can do about it given their situation.
Cade has written one bestseller and has writer's block thanks to his ex-wife. Gabby is bored with being an attorney and wants to write. Cade has an adorable three year old daughter, Ava, who is enamored of Gabby and plays an important role in the story.  We also meet up with Gabby's family, who we've met in the first book, THEN THERE WAS YOU. It was nice to see how their lives have progressed.
There are wonderful family moments but some heartache too since Cade and his sister are estranged from their father. But their father is asking to be part of their lives again and seeking forgiveness. The story is filled with secrets and amidst family and friends, small town gossip, and blossoming romance.
The characters have depth to them. I like that Gabby learns to stand up for herself but also lets others know what she wants out of her life. Her relationship with Ava is sweet. There's nice flow to the story, and I love how the families are there for the others. There is nice closure, especially with the epilogue which takes place two months later. At the back of the book is an excerpt from Rafe and Kaitlyn's story, ALL I WANT FOR CHRISTMAS IS YOU, which really drew me in. I can't wait for it to be released later this year!
What a nice surprise to have a bonus story included. MEANT TO BE by Alison Bliss held my interest from the first page to the last!  It's book 3.5 in the PERFECT FIT series. Although I haven't read any of the other books, I was quickly drawn in to the story. While I know the characters have a history, I didn't feel lost. I plan to read the other books in the series and have added them to my always growing TBR pile. 
There was a lot of push and pull between Brett and Sidney, who broke up a year ago on the day Brett was going to propose. Their paths finally cross again, and they both want the other to think that they've moved on. They are both strong characters who come from different worlds but the same small town. He's a mechanic with dreams of opening his own business, and she comes from money and works in a bank. Their sizzle is still there though, so what will they do about it? There was nice closure that was totally unexpected but it seems that there could be more stories to tell.