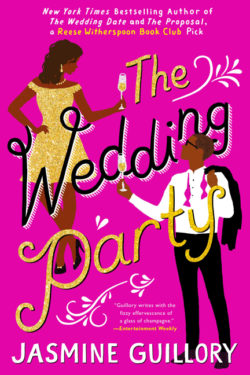 Author

Jasmine Guillory

Release Date

July 16, 2019

Publisher

Berkley

ISBN/ASIN

9781984802194

Our Rating

Reviewed by

Jo
Our Review
THE WEDDING PARTY is the third book in THE WEDDING DATE series, and it was a nice continuation. We originally meet the wedding couple in the first book of the series, THE WEDDING DATE. THE WEDDING PARTY is about the couple reconnecting and getting married, but the story revolves around the couple's best friends, Theo and Maddie. They can't stand to be even in the same room together and only do so out of their friendship for the bride…or is their dislike covering up their attraction? What a fun read!
Theo and Maddie are thrown together at his birthday party, and Maddie offers him a ride home. Theo accepts, and things heat up from there. Their friendship has rocky patches, and when things heat up, Maddie sets up a lot of ground rules. One of them is that the bride must never know about them, since whatever they are doing will end at the wedding.
There are a lot of hot steamy moments, but either Theo or Maddie always retreat from growing closer. They talk about things with each other that they don't share with anyone else and grow closer. When Theo is injured at a work event, Maddie is by his side and cares for him at his home. Until things go very wrong.  
As the wedding day approaches and they're still not speaking to each other, there are quite a few surprises in store for them. I liked Maddie's relationship with her mom, and Theo's with his younger brother. I look forward to reading the next book in the series, ROYAL HOLIDAY, which is due out later this year and will once again reunite us with characters we've met before.
Ms. Guillory's books are always enjoyable and good for some chuckles along with some angst. I look forward to reading more of her books. She's always entertaining.