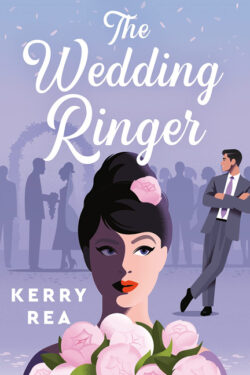 Author

Kerry Rea

Release Date

November 9, 2021

Publisher

Berkley

ISBN/ASIN

9780593201848

Our Rating

Reviewed by

Jo
Our Review
The WEDDING RINGER is a debut novel, and it didn't disappoint. The story has complex characters with a push and pull between them, multiple storylines, romance, and love. It's a fast-paced read that definitely fits the bill as a contemporary romance, with a cute cover and title.
This is Willa's story along with her family and friends and some who are no longer friends or important to her life. I liked her relationship with her sister and her family, and her three young nieces added some levity to the story. There was a depth to the characters and the story, and I kept turning the pages to see what would happen next. Willa is hurt beyond reason when she catches her fiancé and her best friend in bed only six weeks before her wedding. She doesn't handle the situation well, so it's a good thing her sister and her family open their doors to her and give her some place to regroup. She's in a dark place and loses her career and her livelihood and doesn't think she'll ever be able to write again. What she does in the meantime to at least earn some money gave some laughter to the story.
When Willa unexpectedly meets her new best friend, Maisie, in a local coffee shop, the story really takes off. Watching their friendship build when Maisie offers to hire Willa to be a bridesmaid in her wedding added some laughter, tears and angst to the story. When Willa meets the best man, Liam, she remembers him none too fondly since their paths have crossed before. She reminds him of that meeting, and while he's apologetic, Willa isn't interested in hearing his excuses. There's definitely chemistry between them, and I loved how he called her Sparkles or Sparks, much to her displeasure. It was fun to watch their relationship grow even if they took one step forward and many more back.
The story flows nicely with some twists and turns, along with a multitude of storylines being woven seamlessly together. There are secrets being kept by Willa and Maisie along with some others, but there's a lot of romance, love, laughter, and tears. There is a happily ever after along with a hint of another and some closure, but there do seem to be more stories to tell. 
If this is Ms. Rea's caliber of writing, I can't wait to read more of her books. I hope some of them may reunite me with characters we've met in THE WEDDING RINGER. At the back of the book was an excerpt from the author's next book, LUCY ON THE WILD SIDE, that left me wanting more.