The Wedding Setup: A Short Story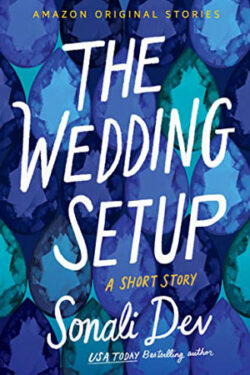 Author

Sonali Dev

Release Date

January 11, 2022

Publisher

Montlake

ISBN/ASIN

9781542036146

Our Rating

Reviewed by

Jo
Our Review
At sixty-seven pages, THE WEDDING SETUP is a quick read. This is a Bollywood romance novella with a lot of attention to detail. Ayesha and her mom don't always get along, especially since she's unmarried with no prospects in sight. But that's all about to change…
When she reconnects with her deceased brother's best friend, Emmitt, they seem to pick up where they left off seven years before–before she told him to leave. While he's been growing, fulfilling his dreams and traveling during that time, she's been stuck in a rut. Ayesha's definitely not living the life she dreamed.
THE WEDDING SETUP takes a while to find out details regarding Ayesha's brother's death. It felt like that information should have been given earlier in the story for a better flow. There are a few surprises, and Ayesha's mother is a great part of the story. It did end a bit too abruptly for me though.
Ms. Dev is an author I had the pleasure of meeting several years ago at an author talk at a local bookstore in Connecticut. I do hope to read a few of her other books and hope for better closure.