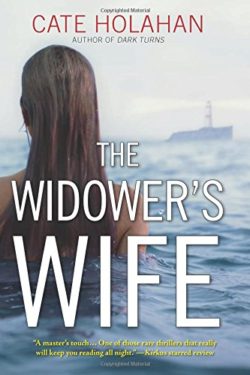 Author

Cate Holahan

Release Date

August 9, 2016

Publisher

Crooked Lane Books

ISBN/ASIN

978-1-62953-765-8

Our Rating

Reviewed by

Kate Curran
Our Review
THE WIDOWER'S WIFE is about a young housewife, Ana Bacon, in love with her husband, Tom, and her daughter Sophia. While on vacation with her husband, she accidentally falls overboard to her death.
The story is told in every other chapter by Ryan Monahan, the insurance investigator, trying to prove Ana committed suicide so his company doesn't have to pay off the 10 million dollar policy. 
The alternate chapters are told by Ana before her death and how desperate she is to save her family after her husband lost his wall street job.
From the first page I was hooked. Did Ana fall, was she murdered, was it suicide? Every chapter gives new clues and until the very end you don't know what really happened. While I had a couple of issues with believability in a few places, I can't mention them without giving away the ending.  But even with those issues, Cate Holahan's THE WIDOWER'S WIFE is a top pick.