The Wonder of Now (Sanctuary Sound Book 3)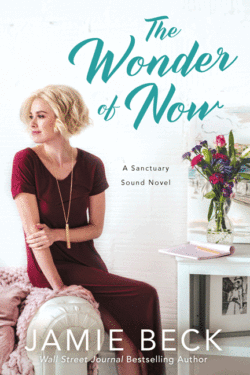 Author

Jamie Beck

Release Date

September 10, 2019

Publisher

Montlake Romance

ISBN/ASIN

9781542044325

Our Rating

Reviewed by

Jo
Our Review
THE WONDER OF NOW is the third book in the SANCTUARY SOUND series, and readers will be transported back to Connecticut and characters they've met before. The story picks up nicely, but this book is much darker in tone since Peyton's cancer is front and center.
The memoir written by Peyton about her medical journey is filled with photos by her award-winning photographer brother. She found it difficult to write but now has to go on tour to promote the book, which causes her a lot of angst.
Mitch's public relations firm is working with Peyton's publisher to promote her book and her book tour. They meet and hit it off, which is a good thing considering he's going with her on her European Book Tour. Rome, Paris, and London are shown through her eyes, and she revisits a few of her favorite places from when she was a travel blogger.
Peyton and Mitch hold back a part of themselves due to their emotional histories. Mitch had dealt with his dad's death from cancer when he was a teen and is still giving support to his mom and younger sister. Peyton's story hits too close to home for him. 
Peyton is still trying to recapture her friendship with Claire, one of her childhood best friends and her brother's fiance. Peyton and Mitch struggle to move forward with their relationship.
The story has a nice pacing. The darkness of Peyton's illness was sometimes overwhelming and difficult to get through. The story is filled with medical issues, secrets, and well-developed romance.The book wraps up nicely and will leave the reader satisfied.
Ms. Beck is an author whose books I've enjoyed, particularly in this series. I look forward to reading more of her work.