Then There Was You (Angel Falls)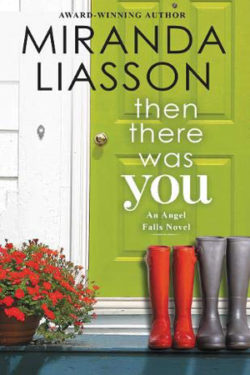 Author

Miranda Liasson

Release Date

May 29, 2018

Publisher

Forever

ISBN/ASIN

9781455541805

Our Rating

Reviewed by

Jo
Our Review
Ms. Liasson is an author I've somehow missed along the way, but I'm glad I finally found her. THEN THERE WAS YOU was reminiscent to me of books by Susan Mallery, Jill Shalvis, and Sherryl Woods, who are some of my favorite authors, so I will be back for more!
THEN THERE WAS YOU is the first book in the ANGEL FALLS series, and I hope there will be many more since Sara has three siblings and Colton has a sister. Sara and her siblings are all named for angels and live in Angel Falls, where the bridge by the angels has supposed magical qualities.
Sara and Colton are front and center, but the story weaves in and out of their lives and those of their families. Not all is rosy since Sara's Nonna is suffering with dementia. And although Nonna has good days and bad, she must have family and friends around her to keep her grounded. She's given them all a few scares. 
Colton's grandmother, Cookie, who raised him and his sister, wants to move to Florida to avoid the winters of Ohio. Colton plays the role of father figure as well as older brother to Hannah.
We learn of Colton and Sara's history as kids and in high school. They hated each other, but there were also many missed opportunities for them to date or at least be friends. Their likes, dislikes, and pasts have shaped their present lives as well as their futures. They both have heartache but have risen above it…mostly. There are complications in both their lives and support from those they didn't expect. The lack of communication about their feelings and their dreams is a real complication that might just destroy them.
The story is filled with family and friends, an ex-fiance, dreams and goals. The characters had a depth to them. Sometimes I felt we were barely scratching the surface, and then there would be lots of revelations. The descriptions were vivid, and the story flowed nicely with a few setbacks here and there and some closure with the epilogue. I for one can't wait for more in this series.