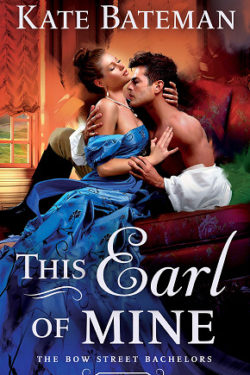 Author

Kate Bateman

Release Date

October 29, 2019

Publisher

St. Martin's Press

ISBN/ASIN

9781250305954/B07NCW262R

Our Rating

Reviewed by

Michele Rioli
Our Review
Are there any good men left? In THIS EARL OF MINE, the first book in The Bow Street Bachelors series, that remains to be seen. Georgiana Caversteed, gorgeous shipping heiress, is accosted by her greedy cousin, Josiah, who wants to marry her because of her money. Desperate, Georgiana comes up with an ill-conceived scheme, wed a prisoner whose days are numbered. She has had numerous suitors but they all see dollar signs when they look at her. She wants a man who loves her, not her fortune. Will she ever find that perfect guy?
In London's prison, Benedict William Henry Wylde is incarcerated but he is secretly a spy with the Bow Street runners. He is ferreting out information on Bonaparte's defectors. Unfortunately, a lovely lady wants to marry a convicted prisoner and Benedict is the unlikely culprit who is picked. What's going on?
Georgiana thought her marital problems were behind her, since marrying a condemned criminal. But inexplicably, she runs into her healthy, handsome husband at a society event just mere weeks later. Oh no, her plans to remain anonymously married went awry! Benedict Wylde is determined to woo his wily, wonderful wife. Just why she needed to marry a criminal is beyond him. Since meeting her he can't stop thinking about her. Even though he signed a contract, he is determined to discover her real intentions. He anticipates seducing her and convincing her of his love, since he could care less she is rich. Will Benedict succeed or will Georgiana give him the boot?
THIS EARL OF MINE is a swoon-worthy, first rate romance tale. It's a girl gets guy, guy woos girl kind of story that's filled with suspense, shocking surprises and plot twists galore. There's fighting, gun slinging, society parties, and everything in between in this ravishing, rousing historical novel. I absolutely adored the crackling chemistry between Georgiana and Benedict. Their attraction is off-the-charts hot! Ms. Bateman expertly delivers an addictive new series that will have readers screaming write faster! THIS EARL OF MINE is just like a delectable strawberry margarita. It's sinfully delicious!