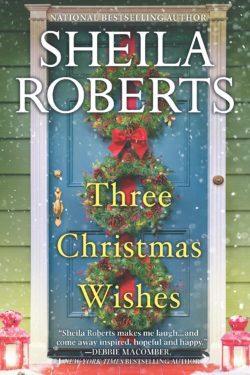 Author

Sheila Roberts

Release Date

October 18, 2016

Publisher

Mira

ISBN/ASIN

0778319695

Our Rating

Reviewed by

Dottie
Our Review
Fourth grade teacher Riley Ericsson's life was perfect and she was looking forward to her wedding. It was all planned and the invitations had already gone out. But three weeks before the wedding, on Thanksgiving Day, she is dumped by her fiancé Sean for her fellow teacher and bridesmaid Emily. Devastated by the betrayal of her fiancé and her friend, she has one Christmas wish. She doesn't need the perfect man, just one perfect for her.
Riley's friend Noel, a children's book author who has so far been unlucky in love, wants only one thing – to buy the house she is renting from Mrs. Bingley. For two years she has rented the house and saved up to one day own it. But right at Thanksgiving, Mrs. Bingley decides to sell immediately and she has a buyer in mind, a handsome man whose business is flipping houses and reselling them. Noel likes the house just as it is, but everything she has done to stop the sale so far has failed. Can she seduce the buyer into changing his mind and let her buy it?
Jo, Riley's sister, is anxious for her baby to be born. She is married to a man who is perfect, except for one thing. He spends months away from home while serving his country in the Navy. Jo doesn't want to raise her baby alone. Her husband has already given eight years to the Navy, and though they agreed that would be it, he is considering re-enlisting. So Jo has given him an ultimatum – the Navy or her and the baby. Which will he choose? Is she setting herself up for heartache?
A visit to see Santa and Mrs. Claus one evening gives the three women quite a surprise, especially when Santa seems to know just what they want and grants them each a wish without their asking for it. He promised Riley that the perfect man for her would come into her life in a memorable way. For Noel, he assured her she would receive the perfect man to go with the house she wants. Jo is told that a new man is about to come into her life. However, she is pregnant and already has her hands full with the man she already has. When Riley returns to the mall to thank Santa after one wish comes true, she discovers that the man they saw that evening doesn't exist, at least according to everyone at the mall. Was a bit of Christmas magic at work that evening? Does Santa really exist? Will the other two wishes come true also?
A truly delightful tale, THREE CHRISTMAS WISHES, penned by bestselling author Sheila Roberts, is an inspiring, clever contemporary romance that is perfect for the holidays as well as the rest of the year. Ms. Roberts' novels are constants on my must read list. Her books are filled with hope and laughter, letting readers come away feeling happier and lighter in spirit. If you have never ready any of her books, here is the perfect opportunity. It is a standalone novel, but I am certain you will seek more of her books after reading this one. Certain to lift your spirits and put you in the holiday mood, this is one you won't want to miss!