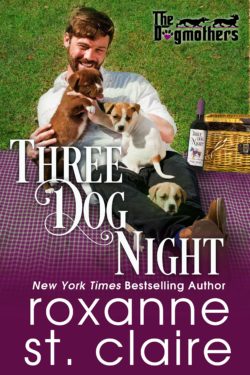 Author

Roxanne St. Claire

Release Date

November 8, 2019

Publisher

South Street Publishing

ISBN/ASIN

B07XZFSYHY

Our Rating

Reviewed by

Raonaid
Our Review
Alex Santorini is the cook at his family's Greek restaurant. At his mother's wedding reception, he tries to garner the pretty vintner's attention. Alex offers his culinary expertise when he discovers Grace needs a replacement chef. He runs across a vital clue to Grace's mysterious past at her winery. In between preparing for a mock wedding reception, they search for more information about Grace's family. Will Alex come in second to Grace's new family? Can he convince her to stay with him and their three pups?
Grace Donovan owns a small winery in North Carolina. She is a woman ruled by scientific thinking. Grace desperately yearns to find information about her familial background. When her chef quits, she reluctantly agrees to allow Alex to cook for a potential client. Grace also finds three abandoned puppies on her property. Things heat up between the two as they prepare a practice wedding reception. Will Grace learn where she comes from? Can she trust Alex not to leave her?
Alex is such a dream! I adore how patient and considerate he is towards Grace. Alex never once thought about taking advantage of her, especially when Grace was at her most vulnerable. He would rather win her heart the correct way than play with her emotions. What I like most about Alex is how he listens to Grace. He respected her unorthodox request about the three abandoned puppies, and he made certain his family knew there would be no deviation from that it. Alex also helped Grace unburden herself from everything she pent up over the years.
Grace is an easy heroine to like. I empathized with her need to find where she belonged. I cannot imagine how it must feel not to know who my family is or where they came from. I like how upfront and honest Grace is with Alex. In the beginning, she willingly admits how his intensity and passion frightens her. Grace can also tell Alex when things are getting too much for her to process and handle. What I admire the most about Grace is how she is aware of what a great guy Alex is. She understands most men would not want to be with a woman with such emotional baggage. He had no ulterior motive in helping Grace find where she truly belonged.
THREE DOG NIGHT is book two in Roxanne St. Claire's dog-themed contemporary series, THE DOGMOTHERS. Characters from the prior book and THE DOGFATHER series show up regularly throughout the story. I adore how we continue to see how the Kilcannon, Santorini, and Mahoney families grow and flourish with each new addition.
THREE DOG NIGHT is a beautiful tale of two opposites discovering the true meaning of family. The author does a superb job of writing such wholesome romances that instill hope that family integrity still exists. I cannot wait to see which Mahoney or Santorini is next on the infamous Dogmother's match-making list.