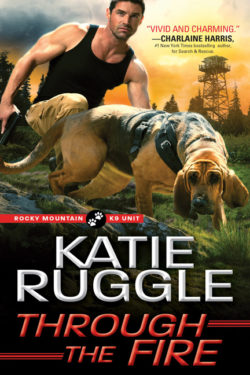 Author

Katie Ruggle

Release Date

August 7, 2018

Publisher

Sourcebooks Casablanca

ISBN/ASIN

9781492664581

Our Rating

Reviewed by

SJ
Our Review
In Katie Ruggle's fourth installment of her Rocky Mountain K-9 Unit series, the story centers around newcomer Kit Jernigan, the latest addition to the K-9 unit in the small town of Monroe, Colorado. 
Kit's been through a tough time in her prior unit and just wants to fit in. But all is not quiet in Monroe. A killer strikes, and her fellow officers don't know her well enough to trust her instincts. Then there's her attraction to quiet, super intelligent Wes March. Wes is a little strange but full of heart and living out by himself in the middle of nowhere. With Wes on her side, Kit might just find her way in a new town full of secrets and danger.
Ruggle once again builds an unforgettable story with quirky, strong, likable characters. Kit's a formidable heroine, vulnerable yet confident in many ways. Wes really steals the show though, a hero who's so smart while uncomfortable and awkward in social situations. The pair are an unbeatable duo. The action proceeds at the perfect pace, the tension crisp, the romance heartwarming. 
Romantic suspense at it's best, and it just keeps getting better!
Don't miss the others in this series. (They can be read as standalones, but for more enjoyment, read them in order.)
ROCKY MOUNTAIN K-9 UNIT SERIES: 
Run to Ground (Book 1)
On the Chase (Book 2)
Survive the Night (Book 3)
Through the Fire (Book 4)