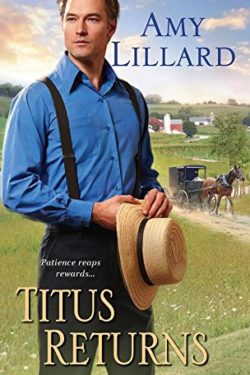 Author

Amy Lillard

Release Date

December 27, 2016

Publisher

Zebra

ISBN/ASIN

9781420139754

Our Rating

Reviewed by

Diana S
Our Review
The community of Wells Landing, Oklahoma, is the home of an old order, close-knit Amish community where second chances are possible.
Titus Lambert returns to Wells Landing after serving a five-year sentence in prison for vehicular manslaughter. Two of his longtime friends were killed, one English and one Amish. Coming home is very hard for Titus. Even though he grew up in Wells Landing and his family still lives there, he feels like he doesn't belong in either world.
Titus begins helping the family of the Amish boy who died. The mother and father are in a deep depression, leaving their twenty-eight-year-old daughter, Abbie, to try and run the dairy farm by herself. Abbie doesn't want Titus on their farm because she has never forgiven him for causing the death of her twin brother. Abbie resents Titus's help but realizes she needs it to fix up the rundown buildings and making the dairy herd bigger. Getting to know the man Titus has become helps Abbie put her dislike for him in the past. Abbie and Titus buy some camels for the new business venture they are undertaking.
Titus is pressured by his family to join the church, but he is not sure he can. Titus hasn't been able to pray since he went to prison, so he doesn't know whether he is worthy of his Amish faith.
Mandy Yoder Esh was Titus's girlfriend when he went to prison. Mandy said she would wait for him but she got married to another man. Now with Titus back she is not sure she did the right thing. Since Amish people marry for life, she knows they would have to leave their families if they broke their faith.
Titus has become close friends with Abbie and feels like he wants to stay in the Amish faith for her. What will Titus do, leave the community with his old girlfriend or stay and try to make a new life with Abbie?
The plot to this book is one I never imagined. It brings out what can happen to a man who has spent five years in prison away from his Amish ways, and how it can change his life. I enjoyed this novel and a new author for me as well. It is fast-paced and thought provoking.