To All the Dogs I've Loved Before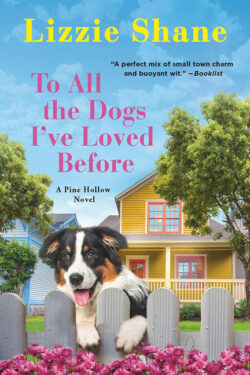 Author

Lizzie Shane

Release Date

November 30, 2021

Publisher

Forever

ISBN/ASIN

9781538735947

Our Rating

Reviewed by

Jo
Our Review
It was nice to return to Pine Hollow in the third book in the series with the same name. TO ALL THE DOGS I'VE LOVED BEFORE started off a little slowly for me. This is Levi and Elinor's story, and it's their second chance at romance. They take ten steps back each time they move one step forward, but Elinor doesn't even know if she wants to be friends with Levi after he broke her heart three years ago, let alone more! The story has multiple plot lines all being pulled together, and we get to reunite with characters we've met before as well as meet new ones.
I enjoyed how dogs are once again central to the story, but especially Dory, Elinor's dog.  Dory seems to have her own agenda as Levi keeps chasing after her each time she escapes from the house. There are some sad and serious moments as well as some laugh out loud ones, but mainly the story has a feel-good vibe. Dyslexia seems to be spotlighted, and it's interesting to see how the learning disorder is presented. I liked the depth to the story and the characters, and how mental illness and therapy played a part in the character growth. There is nice closure with the epilogue along with several happily ever afters. I like knowing that Elinor's sister, Charlotte's story will be next. And I love the cover!
Ms. Shane is an author whose books I've added to my TBR pile. I've enjoyed the three books that I've now read in this series and look forward to reading more.