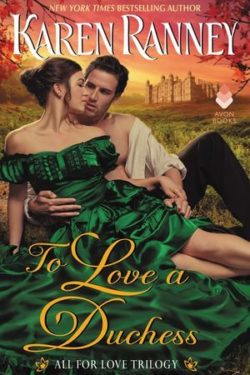 Author

Karen Ranney

Release Date

July 31, 2018

Publisher

Avon Books

ISBN/ASIN

9780062841056/B0756FJ5HL

Our Rating

Reviewed by

Michele Rioli
Our Review
TO LOVE A DUCHESS is an elaborately woven historical romance novel starring a grieving lady, Duchess Suzanne Whitcomb. Suzanne is emotionally spent dealing with the aftermath of a terrible accident that took the life of her husband, the Duke of Marsley. Life is a blur but there is a ray of hope on the horizon. An incredibly handsome servant, Adam Drummond, has just been hired. He is the Duchess' new majordomo. Suzanne is surprisingly enchanted by the new mystery man. Will she succumb to Adam's charm?
Marsley House is Adam's new assignment. He works as a spy now for the war office after many years of service as a soldier and captain. He must be extremely cautious not to reveal his main purpose for being there. He needs to expose whether the Duke of Marsley used treason against his country. As difficult as this job is, he is having a hard time focusing, because twice now he has saved the Duchess from danger. Each time, he found Suzanne crying. What is making her so unhappy?
Holding Suzanne in his arms feels so right. She absolutely melts in his arms. Is it wrong to want to protect her? Plus, Suzanne is falling for Adam. Is it dangerous to fall in love with him? Is Adam just as in love with Suzanne?
TO LOVE A DUCHESS is a triumphant tale of whether true love can withstand challenging circumstances. Dashing undercover agent, Adam, and sad, beautiful Duchess of Marsley, Suzanne, have both suffered tragedies of loved ones. Will they risk their hearts to love again?
The author pens a compassionate story drawn from the harsh realities of life in the 1800's. Ms. Ranney's story delivers on all levels, mysterious, suspenseful, deceptive, humorous, and extremely romantic. A big round of applause for the author's debut novel in the All For Love series. Many colorful characters and some dangerous, cunning ones also, along with a scandalous plot will definitely please hard core romance fans. TO LOVE A DUCHESS is extremely risky business. Prepare to fall in love with this sensational story!