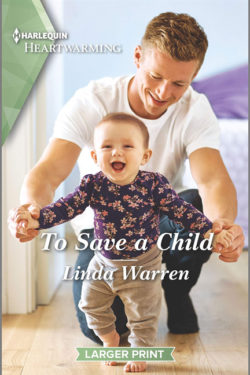 Author

Linda Warren

Release Date

March 3, 2020

Publisher

Harlequin Heartwarming

ISBN/ASIN

978-1335889614

Our Rating

Reviewed by

Dorine
Our Review
TO SAVE A CHILD is cuteness overload and exactly why I chose this book for review. I was in the mood for an extra sweet story with a child, and author Linda Warren provided that and more. I mean, seriously? Who can resist that wanna-pinch-her-cheeks baby on the cover?
Walter Chisholm is having a rough time adapting after the death of his wife. They also lost their son and his wife years ago, which changed their lives forever. Now that his grandson, who they raised together, is an adult and trying to tell him what to do, Walt is ready to be done with all this nonsense and be with his wife.
When a baby is plopped down on his doorstep, Walt swears it's a gift from his deceased wife. Even though his grandson Cole is against the idea, Walt is determined to keep this baby. Cole is sure this isn't a gift from heaven, but a sign that something is terribly wrong. He knows his policeman's instincts are spot on when he finds a woman face-down in the snow near her wrecked car. Can he trust anything she says?
TO SAVE A CHILD is book 9 in the Texas Rebels series and the first book I've read by this author. I didn't know it was part of a series when I chose it. For the most part, I was able to understand it without reading the prior eight books. A few things were a little fuzzy, but not enough to stop me from reading this one out of order.
Even though this book isn't listed as suspense, there is enough to create tension. There were some characterization issues that bumped me a bit, as well as some repetitive phrasing that could have been smoothed out. But everything else was delightful.
Walt was my favorite character. He was ornery and bossy and cranky—all the things that reminded me fondly of my grandpa. His wisdom and funny way of saying things made me laugh.
This book is wholesome good reading that doesn't rely on the romance to carry it forward. And the book gave me that all-over gooey niceness I was craving, filled with everyday things like cooking for memories and dancing to old tunes. The romance was subtle and developed as friendship into chaste kisses to love. Even non-romance lovers will enjoy this sweet story.
TO SAVE A CHILD is clean, feel-good storytelling all meshed together with likable characters in an intriguing plot. Fans of Christmas stories will enjoy the nuances added in to emphasize the characters' past and how it evolves into a beautiful future. I'll be looking for more Harlequin Heartwarming stories, as well as more books by Linda Warren. Satisfying fast-reading goodness!