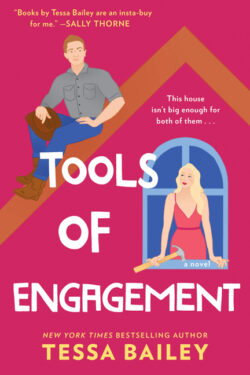 Author

Tessa Bailey

Release Date

September 22, 2020

Publisher

Avon

ISBN/ASIN

978-0062872937

Our Rating

Reviewed by

Jo
Our Review
TOOLS OF ENGAGEMENT is the third book in the HOT AND HAMMERED series, and it moves at a quick pace. There are moments of anxiety and fear mixed with a sweet and sexy romance that definitely satisfies.
This is Wes and Bethany's story, and while she fights him every inch of the way, she also slowly realizes that he understands her, and their romance blossoms. She would start spiraling, and with one look, Wes would ground her.
Wes is taking care of his niece, Laura, while her mother, his half-sister, takes a much-needed break. He doesn't expect to love Laura so much, but he makes a great father figure. And he also is a great support for Bethany, who chafes under her brother's put-downs. When Bethany and Wes start working together, the sparks fly.
The story had a nice flow with multiple storylines. I loved meeting up with characters we've met before, which round out the story. There is nice closure and a happily ever after that is better than expected, with the epilogue that takes place eight months later. And the title is really clever!
I enjoy Ms. Bailey's stories, though for me, the cursing is a little over the top. TOOLS OF ENGAGEMENT is a fun contemporary romance with a sweet love story and engaging characters. Worth the read!