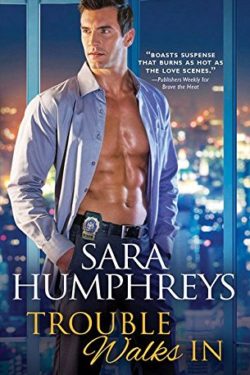 Author

Sara Humphreys

Release Date

August 2, 2016

Publisher

Sourcebooks Casablanca

ISBN/ASIN

1402293704

Our Rating

Reviewed by

Dottie
Our Review
Real estate agent Maddy Morgan hasn't been back to her hometown since losing her firefighter boyfriend Rick over a year ago. Rick was killed on the job and his death left her devastated. She will soon have to return to her hometown to act as maid of honor for her best friend Jordan's wedding. But any future romance for her is out of the question. She cannot bear to love someone else only to lose him.
Maddy is not the only one who will be returning to their hometown soon. K-9 cop Ronan McGuire is working in Manhattan, but his family still lives in the small town where he grew up. Ronan has promised his brother that he will be best man at his wedding. Ronan enjoys his life, his dog and he is very popular with the ladies. While growing up he had fallen for Maddy after witnessing her bloody the nose of the town bully. Still, he has always known she was out of his league. When she fell for Rick, Ronan knew he had to give up any hope of being with her. However, discovering that she is now working in Manhattan also gives him fresh hope.
Maddy is interested in Ronan, but she has no plans to get involved with him. Being a police officer makes him just as much a risk as being a firefighter had been for Rick. She knows that dating Ronan will be a risk that could leave her heartbroken again. But Ronan's persistence gradually breaks down the walls she has put up around her heart. When Maddy's coworker goes out on a call and her dead body is later found, it is believed that her death is job related. As the bodies of real estate agents mount up, Ronan is terrified for Maddy's safety, especially when two of the deceased are from her office. Will getting Maddy back to their hometown to his brother's wedding, where they are both participants in the nuptials, keep her safe, or will he have to take other steps?
A suspense-filled tale, TROUBLE WALKS IN, the second book in author Sara Humphrey's THE MCGUIRE BROTHERS series, is an intriguing, sexy, contemporary romance that I consumed in one day. Deliciously romantic, Ronan works hard to win Maddy over and it is just beginning to pay off. The chemistry between these two is undeniable and I loved watching the interaction between them. Animal lovers will get a kick out of Ronan's dog as one of the main characters. Plus, the mystery behind the killings will leave you adding up the clues as you try to figure out the villain's identity. The intrigue, danger, murder, passion, love, healing and romance combine to give readers a fascinating read that is not to be missed.
Ms. Humphreys is a new-to-me author, but I enjoyed her novel immensely and am always happy to find another writer to add to my 'must read' list. Although this is the second book in the series, it can be read as a standalone. But you may want to save some time and pick up the first book, BRAVE THE HEAT, while you are purchasing this one. I am sure you will be seeking it anyway once you finish reading TROUBLE WALKS IN. Treat yourself to a copy today and enter the delightfully enthralling world of Sara Humphreys!
A RECOMMENDED READ!