True Dead (Jane Yellowrock Book 14)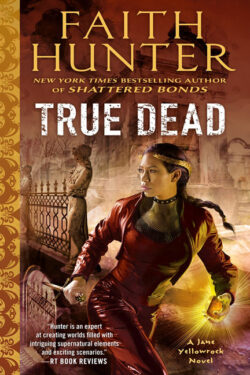 Author

Faith Hunter

Release Date

September 14, 2021

Publisher

Ace

ISBN/ASIN

978-0451488732

Our Rating

Reviewed by

SJ
Our Review
TRUE DEAD is the fourteenth book in Faith Hunter's popular Jane Yellowrock series about a shapeshifter and the supernatural and human company she keeps. Hunter delivers a solid chapter in Jane's ongoing storyline. Fans will be thrilled to see Jane, the new Dark Queen, manage her health, her consort, and vampire politics. But new readers will be totally lost—you have to be familiar with the series and read the books in order.
It took me a while to get into the story, and I had to go back and reread the previous book, SHATTERED BONDS, to wrap my head around the ongoing plot and multitude of characters.
When we last left Jane, she had cancer, a new title as Dark Queen, taking over for Leo, and danger in the form of the Son of Darkness. Now she's dealing with Beast—her feline other half—and trying to figure out what form she'll stay in. She also needs to come to grips with her overprotectiveness, as well as her makeshift family's protectiveness over her.
The story is, as always, complex, emotional, and fast-paced. Bruiser, Alex, Eli, and crew are working hard in the Appalachians while Jane tries to recover in time for a wedding (not her own but a friend's.)  
The best parts of the story seem to be between Jane and Beast, and hearing Beast's thoughts, which add much needed levity to the darkness that can be overwhelming. Bruiser's solid, as usual, and Eli is her constant. But there are surprises and the return of some characters that are truly shocking. Great twists, and no, I won't spoil them.
A must-read for fans of the series, but if you haven't read the previous books, you need to. Start with SKINWALKER. You won't be disappointed.