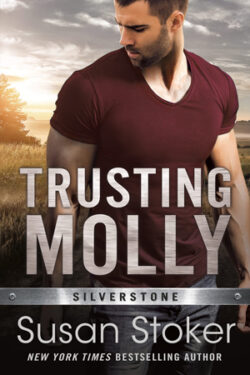 Author

Susan Stoker

Release Date

July 13, 2021

Publisher

Montlake

ISBN/ASIN

9781542021449

Our Rating

Reviewed by

Jo
Our Review
TRUSTING MOLLY is the third book in the SILVERSTONE series, and I'm already looking forward to book four, TRUSTING CASSIDY. Somehow I missed the second book in the series, TRUSTING TAYLOR, and plan to go back and read that as well.
My adrenaline, along with the characters', was pumping throughout the book. The story has a wonderful flow as we go from Nigeria to Indianapolis and Chicago. Most of the book is set in Indianapolis, where Silverstone Towing is based. The company is owned by four ex-Army buddies who still do missions as a team for the government. Their loyal employees know they travel but not what they really do.
When Molly, an American environmental scientist, is found in a deep hole in Nigeria, she's rescued along with the young Nigerian girls who were kidnapped by a terrorist group. Mark, also known as Smoke, literally falls on top of Molly when he falls into the hole, unaware that it is there. They have an instant connection, but he needs to finish his mission with his buddies before he can rescue her. From then on they are inseparable, and he helps keeps her positive even with so much negativity and turmoil in her life, including a dangerous ex-boyfriend.  
The story is a quick read and unputdownable. There's a lot of action against the bad guys, and through it all Mark's number one concern is Molly. His team always has their backs as well. Mark and Molly's chemistry is through the roof, but a lack of communication means they don't realize how each other feels. Their romance is sweet and loving.
I especially loved reuniting with the other characters on the team and the towing company, as well as Skylar and Taylor, who are in relationships with two of the other teammates. The story wraps up neatly, and we get an inkling as to what the next book will be about. I can't wait to read it!