Eternity Springs: The McBrides of Texas: Tucker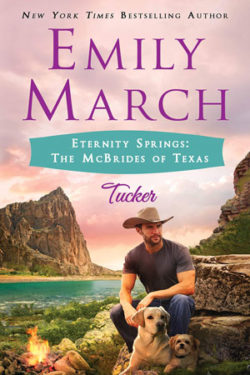 Author

Emily March

Release Date

February 25, 2020

Publisher

St. Martin's Paperbacks

ISBN/ASIN

B07SCTC5Q3

Our Rating

Reviewed by

BPoston
Our Review
For fans of the Eternity Springs series, they will love TUCKER, which takes place in the small town of Redemption, Texas. Here, the McBride cousins are trying to bring the town back to life, creating businesses and jobs.
This book is the story of Tucker. He is a retired Army Ranger and more than a little rough around the edges. He comes to Redemption to figure out what he wants to do with the rest of his life and realizes with his experience, he would really enjoy opening a business as a wilderness trainer and guide.  The only one giving him grief over his plans is Gillian Thacker, the town bridal salon owner who wouldn't dream of getting dirty.
 He sets up his business right next to her bridal shop which drives her crazy.  Military cammo and gear has no business next to her beautiful wedding dresses so he has to go.  She doesn't have time to deal with him and his nonsense while planning her own wedding.
When things do not go as she planned, Tucker is the one who steps in and helps her realize just what is truly important.  This book has humor and so much heart.  I love the McBride boys and would love to live in Redemption myself.  Fans of Emily March will not be disappointed in Tucker's story.