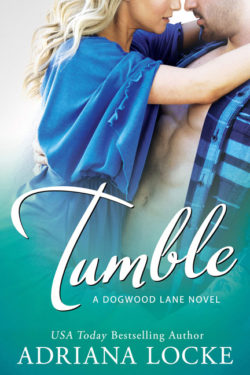 Author

Adriana Locke

Release Date

February 26, 2019

Publisher

Montlake Romance

ISBN/ASIN

9781503905146

Our Rating

Reviewed by

Jo
Our Review
TUMBLE, book 1 in the DOGWOOD LANE series, is a second chance at romance story. The characters of Dane and Neely were friends growing up in the small town of Dogwood Lane, Tennessee, and dated once they were older. They broke up before she went off to college because he didn't want to hold her back from her big city dreams that he couldn't be a part of. Dane became a single dad after she left, and Neely stayed away for ten years, not wanting to know anything about him or his life. When Neely's life takes an unexpected turn and she returns home–just for a few days so she can regroup and get another dream job–she never expects to reconnect with him or feel a connection to the town and people she once ran away from.
Dane's daughter, Mia, was wise beyond her years. I loved how she embraced life. She and her dad had a loving relationship and were definitely a team along with their part time nanny, his cousin, Haley. I loved their give and take and was amazed how easily Mia got attached to Neely, wanting Neely to be part of their lives. Neely was an award winning gymnast when she was younger, and Mia too was a gymnast and seemed to be following in her footsteps.
Watching Dane and Neely reconnect on any level was sometimes hard to watch since they were sabotaging any hopes for a future due to Neely's supposed short time at home. Neely and her mom had a fun relationship that I think surprised them both at times, but they definitely were there for one another.
As Dane and Neely resume a wary friendship, we also got to meet the others in their small town. The story was filled with tears and laughter, family and friends, and some heat-up-the-sheets moments. The characters had layers to them, but the story was choppy at times despite a happy ending. There were a few loose ends to take us back to Dogwood Lane, and I for one can't wait to return.
Ms. Locke is a new-to-me author. I will add some of her other books to my always growing TBR pile.