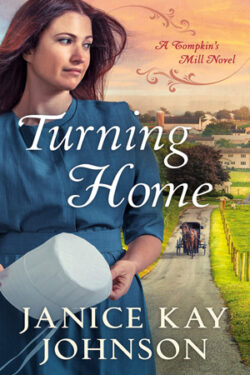 Author

Janice Kay Johnson

Release Date

September 29, 2020

Publisher

Berkley

ISBN/ASIN

9780593197967

Our Rating

Reviewed by

Jo
Our Review
TURNING HOME is the first book in the TOMPKIN'S MILL series. It's an Amish romance that has God, family, and hard work at its core with several references to the Bible. The reader gets to know the residents of the small town of Tompkin's Mill, Missouri, as well as a sense of the community.
Julia is an Englischer who left her home in Ohio and followed her police chief brother to Tompkin's Mill initially for just a visit. She has secrets but is trying to live her life the way she wants to. She's very religious but doesn't feel a connection to the Christian church she belongs to. Julia gets a job at an Amish furniture store where she'll greet customers, answer the phones, and do bookkeeping as well as update their website. She's hired by the father but his son, Luke, who works with him, has doubts. Luke only returned to his Amish life and faith a year ago after living ten years as an Englischer.
There is definitely an attraction between Luke and Julia, and others see it too. The couple settles on friendship, but Julia's always supportive when Luke most needs someone to help him think through a problem or concern. He has some secrets and surprises in his life as well. Although she flourishes in their small community and seems to be accepted through all her kind deeds and organizational skills when needed, she has to wonder if this is this the type of life she really wants.
The story is based around family, friends, and the Amish community. The plot flows nicely, and the characters have a depth to them. There is nice closure, especially with the epilogue that takes place three years later and gives me the happily ever after I look for.
Well worth the read!