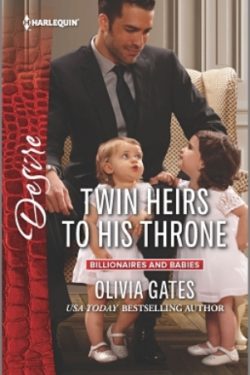 Author

Olivia Gates

Release Date

January 5, 2016

Publisher

Harlequin Desire

ISBN/ASIN

9780373734320

Our Rating

Reviewed by

Jo
Our Review
TWIN HEIRS TO HIS THRONE is a quick read but had a lot of darkness and turmoil to it. There were a lot of twists and turns to the story since when Leonid was critically injured in a car accident he turned his back on his lover, Kassandra, even when she tells him she is pregnant.  This is set up in the prologue and gives us hints of what's to come and some of the reasons he's acting the way he is. She mourns her life without him, knowing she broke their agreement and got involved with him, but two years later when he shows up on her doorstep demanding access to his twin girls she's blindsided especially when he continues to reiterate that he doesn't love her anymore if he ever did.
Actions speak louder than words on both Leonid's and Kassandra's parts but will they ever learn the truth of how each of them really feels?  Watching them bicker and throw horrible accusations at each other was heartwrenching but seeing them each misunderstand the other over and over again created more devastation.  The twins are adorable and take to their father immediately but Kassandra doesn't know where she fits in with all his plans especially when he's to be crowned king of Zorya.  When her friend's husbands get involved at Kassandra's requests, things don't follow the path she expected and when her father threatens to straighten Leonid out it was almost comical.
With a coronation in the offing it's more important than ever that Kassandra and the twins do his bidding but once again neither is listening to the other.  There was closure after all the upheaval and a happily ever after in the offing but an epilogue would have been the icing on the cake!
Gates is a new to me author and I will add some of her other books to my always growing TBR pile.