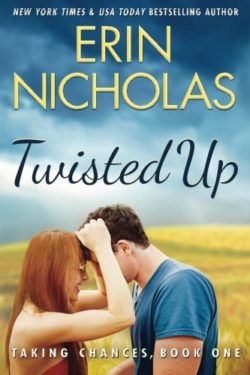 Author

Erin Nicholas

Release Date

August 23, 2016

Publisher

Montlake Romance

ISBN/ASIN

1503936783

Our Rating

Reviewed by

Dottie
Our Review
Fire Chief Avery Sparks also serves as head of emergency management in her hometown of Chance, Nebraska. She is usually very efficient, keeping order and always staying on top of things. But the one thing she can't get a handle on is her feelings for Jake, her first boyfriend, who also became her first lover the night of their high school prom. She has always wondered why the next day he left town without saying a word. That was ten years ago and now the town is preparing for their ten-year high school reunion.
Jake Mitchell left Chance right after his graduation and enlisted in the Army National Guard. In the years since he left his hometown, he has become nationally respected for his success in disaster recovery. Still, he feels that something is missing in his life. Last year, as a class four tornado bore down on his hometown, Jake returned to Chance to help save it. Now, Jake is needed in D.C., a trip that will enhance his career, but first he is stopping in Chance to attend his ten-year reunion and once more see the woman he has never forgotten.
While it is Avery's job to control chaos, Jake embraces it. As they work together to save their small town, they succumb to the passion that flares between them. But will their explosive chemistry create more chaos than the storms they are fighting, or will they be able to build upon their past and create a future together?
TWISTED UP, penned by author Erin Nicholas, is a terrific beginning to her promising new TAKING CHANCES series. Providing readers with a warmhearted, down-home read, Ms. Nicholas takes you on an emotion-packed roller coaster ride as she delves into some underlying issues, such as Avery's relationship with Jake's parents and how Avery's childhood affects her adult life. The combustible chemistry between Jake and Avery leaves sparks flying whenever they are near each other. Set in an area known for its frequent tornadoes heightens the suspense as the townspeople must always be prepared and alert for the next one.
Ms. Nicholas is a new-to-me author and I was delighted to discover another author whose work I truly enjoy. I look forward to reading more of her novels, especially her upcoming addition to this series entitled TANGLED UP, which is due to release in January 2017. For an entertaining read that is sure to keep you enthralled right up to the very last page, be sure to pick up a copy of TWISTED UP!