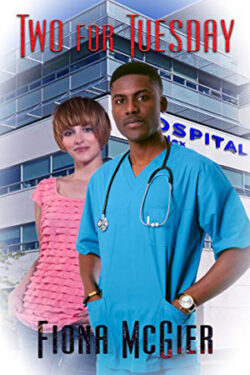 Author

Fiona McGier

Release Date

February 5, 2021

Publisher

EXtasy Books

ISBN/ASIN

9781487431952

Our Rating

Reviewed by

Jo
Our Review
TWO FOR TUESDAY is a cute title for this quick and steamy read since Tuesdays play an important part in the telling of this tale. Marcus is studying to be a doctor, and he's in college on scholarships. When his path crosses with Melanie, their lives become intertwined in so many different ways.
Fast-forward and Marcus is a renowned cardiac surgeon in the big city. Melanie is a high school English teacher in a small town. Their paths cross again when he looks her up and makes his way to her after presenting at a medical conference. From there, the story heats up in more ways than one since she's the one he's never forgotten.
She's his first love, and he's always had a special place in her heart, but they both wanted different things in life. When they reconnect, do they! Marcus has a lot to work out in his personal life. Melanie's got nothing but work-related obstacles and living in a small town in her way…except that Marcus isn't single yet.
TWO FOR TUESDAY has a good flow with a lot of plot lines woven together nicely. There's satisfying closure and a few surprises along the way. A heartwarming romance.
Ms. McGier writes books in many different genres, and her contemporary romances are my books of choice, even if they are steamy and often take me out of my comfort zone.