Unbridled (Long, Tall Texans)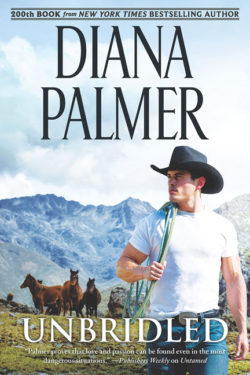 Author

Diana Palmer

Release Date

June 26, 2018

Publisher

HQN Books

ISBN/ASIN

9781335012869

Our Rating

Reviewed by

Jo
Our Review
UNBRIDLED is Diana Palmer's latest installment in the LONG, TALL TEXANS series, and it didn't disappoint. Reuniting with characters we've met before in many of the books is always heartwarming. Many of them led totally different lives previously as mercenaries and military personnel. Now they are lawmen and women, and justice is usually served. The book is fast paced and captured my attention from the first page to the last.
The story is set mainly in San Antonio, Texas. Gang wars happening too often for not only the police and the Texas Rangers but also the citizens. A priest who has ties to a good gang (if there is such a thing) is helping to bring in Rado and his gang before more murders and injuries are committed. John Ruiz is a widowed Texas Ranger with an eleven year old son, Tonio. They don't spend as much time together as they should due to John's job. Unfortunately, Tonio acts out in ways that are dangerous.
Tonio befriends a nurse at the children's hospital where he waits for his cousin to give him a ride home after school each day. Sunny is as her name implies and tries to guide Tonio when he confesses he can't talk to his dad about things. She's shy and innocent in the ways of the world but has connections to law enforcement (due to things that have happened to her and her family in the past.) John is attracted to Sunny when they meet briefly at a holiday party. None of the three know they have a connection to each other.
There are lots of twists and turns and some scary moments in this story. There is passion and joy between John and Sunny, as well as conflict. The characters all have a depth to them, and there are many layers to the crimes committed and their connections to other crimes and the gangs. A lack of communication between many of the characters leads to some unhappy conclusions, but when pieces fall in place, there is wonderful closure on many fronts. 
The end is very sweet, but the story ended too abruptly for me. An epilogue would have been nice unless we'll be meeting up with the characters again in another book in the series.
Ms. Palmer is one of my favorite authors of western romance because her stories always have many layers to them and keep me turning the pages far into the night.