Unbroken Cowboy (A Gold Valley Novel)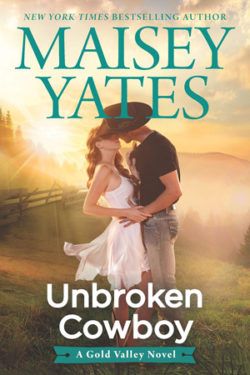 Author

Maisey Yates

Release Date

April 23, 2019

Publisher

HQN Books

ISBN/ASIN

9781335041128

Our Rating

Reviewed by

Jo
Our Review
UNBROKEN COWBOY takes us back to Gold Valley, Oregon and is the fifth book in the GOLD VALLEY series. It was nice to be reunited with characters we've met before and returned to the winery and the Get Out of Dodge dude-ranch. This is Dane and Beatrix's (Bea) story, and it didn't disappoint. She's loved him from afar since she was young. 
When Dane is seriously injured by a bull he was riding in a competition, he returns to Gold Valley to heal. He stays at the house where Bea was raised until she moved out to a cabin on the property many years ago. The house is now owned by Dane's sister, but she lives with her husband, Wyatt, at their ranch. Bea helps Dane to heal, and things take an unexpected turn when they become so much more than friends.
There are a lot of heat-up-the-sheets moments in between Bea rescuing animals, working part time for the local vet, and taking classes online for her vet tech certificate.  Dane goes to work at the dude-ranch doing jobs that don't tax him due to his injuries.  
As we get to know the characters and learn of their attraction, both Dane and Bea are running scared since this is only supposed to be a fun interlude and nothing serious. The interactions between family and friends keep the story moving, and everyone seems to have an opinion when they find out Dane and Bea are in a relationship.
Things that happened in previous books resurface in this one and enhance the story-line. There are nice descriptions of the land and the rescued animals. Bea's rescued raccoon, Evan, is like a pet, and we're privy to his antics. The story has a nice flow to it and a happily ever after that we learn of in the epilogue. An excerpt in the back of the book for the next book in the series, COWBOY TO THE CORE, whet my appetite for more.
I've read books in several of Ms. Yates series, and I look forward to reading more.