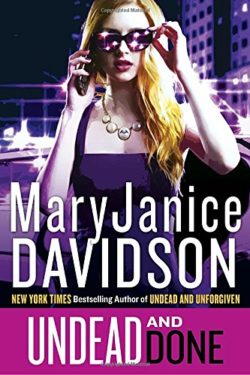 Author

MaryJanice Davidson

Release Date

October 4, 2016

Publisher

Berkley

ISBN/ASIN

9780425282946/B01AHKXJFU

Our Rating

Reviewed by

Michele Rioli
Our Review
Hail! The dueling gangs are all here! UNDEAD AND DONE, the last book in the UNDEAD series is uber fantastic! There are problems, and then there are very big problems! Really! Aw…come on, what can you expect from Queen Betsy having to rule Hell no less. On top of all that, she has to deal with her honey Sinclair, the vampire king, her half-sister Laura, who is the Anti-Christ and on the warpath, her off-the-wall mom, her dateless zombie friend Marc, as well as many vexed-off vampires, a mad mermaid Fred, the extremely worried, Wyndham werewolves and many other warring friends and family members. Should she be worried? Sure! However, her vast shoe collection should bring her some comfort, in the scheme of things, but…all hell goes to heck in a handbag anyway. What's a girl to do?
Just you listen to her life of late. Recently, her half-sister Laura, the Anti-Christ, made known to the world that vampires really do exist. Oh, for goodness sake! Betsy's interview on the local news added to the hoopla instead of taming down the masses. Now there is a media circus out on her front lawn. Everybody's mother, brother, sister, father, vampire, mermaid, werewolf, etc. are outraged over it all. What else can possibly go wrong? A clashing committee that runs Hell? Hell parolees running amok?
UNDEAD AND DONE is a light-hearted, campy, vampy romp! Queen Betsy is at it again. This time she has her hands full with the many new responsibilities of running Hell. She is astounded at her new abilities and her quirky charm adds to the icing on the cake in this fabulous round up of the end of the UNDEAD series. Ms. Davidson neatly ties up all the loose storylines with a dramatic flair, also adding footnotes for the reader to stay abreast of the plot. Wow! A lot happens in this last book and new characters BabyJon, along with Dick and Jessica's twins, get some airtime. Be prepared to grab a refreshing drink while reading. Betsy and the gang drink smoothies like they are going out of style, in Hell no less! Who knew? I just love the zany personalities of all the characters and have come to love them all! I will sorely miss Betsy and crew! UNDEAD AND DONE is wonderfully weird, wacky and way-out fun! Just like a tropical smoothie with a tangy, sour lemon twist!