Under a Winter Sky, anthology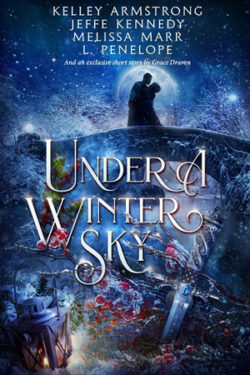 Release Date

November 19, 2020

Publisher

Brightlynx Publishing

ISBN/ASIN

B08HY8DHS7

Our Rating

Reviewed by

Raonaid
Our Review
This anthology is a fantasy lover's dream. It has a little of everything: High Fantasy, Urban Fantasy, and Time Travel. Each story takes place around a winter holiday, not necessarily Christmas.
LONG NIGHT CRYSTALLINE MOON
by Jeffe Kennedy   
Rhyian is the shapeshifter son of Queen Andromeda of Annfwn. He is promised to the Goddess Moranu. Salena Nakoa KauPo is the daughter of King Naoka KauPo of Nahanau. She is a weather sorceress. Rhyian and Salena are forced to attend The Feast of Moranu, which also happens to be the anniversary of High Queen Ursula's reign. Can Rhyian and Salena put their differences behind them? Will Salena finally let go of the past? What revelations will Rhyian discover?
Salena is a perfect mixture of her parents. I like that she is not afraid to spend her time in the library like her mother. Rhyian takes after his Tala father in temperament and attitude. I understand his desire to escape Moranu's notice.
THE LONG NIGHT OF THE CRYSTALLINE MOON is a prequel novella of Jeffe Kennedy's fantasy romance series, HEIRS OF MAGIC. This series ties with her other series, THE TWELVE KINGDOMS and THE UNCHARTED REALMS. I love how this new series focuses on the Twelve Kingdom's next generation.
This story is the main reason I picked up this anthology. Jeffe Kennedy is my "go to author" for fantasy romance. I cannot wait to re-visit the Twelve Kingdoms!
BALLGOWNS & BUTTERFLIES
by Kelley Armstrong     
Bronwyn Dale Thorne is a professor and historian, one who specializes in the Victorian era. Lord William Thorne is Thorne Manor's rightful owner in his time period. When Bronwyn returns to England, William whisks her to his time to enjoy the holidays. Can Bronwyn overcome her trepidation of causing a butterfly effect? Can William help her find a suitable compromise?
I admire Bronwyn's desire not to change history. She does not want her presence or decisions to cause cataclysmic harm. Sometimes Bronwyn over obsesses it. I adore how William willingly braves two time periods to be with Bronwyn. He is extra careful on how he uses the information from the present in the past.
BALLGOWNS & BUTTERFLIES is the second story in Kelley Armstrong's time-travel Victorian gothic series, THORNE MANOR. I have heard about this author. I just never tried any of her books until this novella. It did take me a while to assimilate to the first-person point-of-view.
BLOOD MARTINIS AND MISTLETOE
by Melissa Marr    
Geneviève Crowe is half witch and half draugr. She hunts and slays evil draugr. Geneviève is also proficient in necromancy. Eli Stonecroft is an exiled faery prince living in New Orleans, Louisiana. Geneviève needs to find a way out of their betrothal without losing Eli. However, danger follows her every step. Can Geneviève find a loophole to escape their engagement? What else will she discover about her dual heritage?
Something about her demeanor just did not click with me. I understand and respect Geneviève's stance about not having children. However, the repetitious mentioning of her reasons got annoying. Eli is amusing! I love how he used desserts as pet names for Geneviève. I found it so unique. What I like most about Eli is his loyalty and protectiveness towards Geneviève.
BLOOD MARTINIS AND MISTLETOE is a part of Melissa Marr's Urban Fantasy series, FAIRY BARGAINS. I have not read the previous story, so there were key parts about the characters and situation I felt lost on. The novella did not really clarify what exactly a draugr is, so I hope the first book does.
Melissa Marr is a new to me author. It did take me a while to adjust to the first-person point-of-view.
ECOHES OF ASH & TEARS
by L. Penelope     
Mooriah is an outsider among the Cavefolk. She hopes by being an apprentice to the shame will secure a place among the clan. Ember is the chieftain's son. He and his brother vie to be the clan's next chief. Ember approaches Mooriah for help with his affliction with blood. However, another outsider threatens trouble for the Cavefolk. What trials do both Mooriah and Ember face? Will Mooriah choose the outside world or her clan?
ECHOES OF ASH & TEARS is a part of L. Penelope's series, EARTHSINGER CHRONICLES. The storytelling and characters remind me of Kathleen O'Neal Gear and W Michael Gear's PEOPLE series. I use to love reading those books as a teenager.
A MEMORY OF SUMMER
by Grace Draven     https://gracedraven.com/home
Emerence Ipsan is a Beladine merchant's spinster daughter. She helps manage both of her father's shops. Gaeres is a Quereci nomad. He is the fifth son of the Kakilo clan's chieftain. When a drunkard threatens not only Emerence but her apothecary shop, Gaeres steps in to dissuade the man. Will Gaeres change Emerence's mind about marriage? Can she overcome their age difference? What else will stand in their way?
I adore Emerence's stance on marriage. She prefers to find a man she loves than marry because it is expected of her. Emerence also does not let public scrutiny bother her. Gaeres is a perfect match for Emerence. I love how age does not dissuade his interest in her. Gaeres sees the real person within the outer shell.
A MEMORY OF SUMMER is a part of Grace Draven's series, WRAITH KINGS. I am unfamiliar with this series, regrettably. Hopefully, I can rectify that soon. However, I adore Grace Draven's THE FALLEN EMPIRE series. She is the second reason I picked up this anthology.
There are some big-named authors featured in this anthology. Each novella is different and unique. It is a great way for people to try other genres of fantasy in just one book.